Being IML - May 2004
---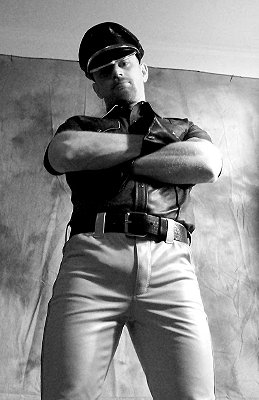 Photo credit: David Magdziarz

Wow - that year went by incredibly quickly. People often ask what it's like to be IML. I think it's like being shot from a cannon, where you fly through the air for 12 months and then land with an enormous thud. (I'm still waiting for the thud...) Or maybe a more accurate description is to compare it to being hit by a truck, dragged along a road at high speed for a year and then left behind as it speeds off. Either way, you can prepare for this as much as you like and you'll still be overwhelmed at times by the experience.

Having said that, perhaps there's some advice I can give to the next poor sap, I mean lucky contestant, who wins International Mr Leather. Here's a combination of good advice given to me, along with some things that I wish I'd been told.


Notes for all IML contestants
Be yourself. Don't try to copy other IML winners. The judges aren't looking for another David Kloss, Jeff Tucker, Joe Gallagher or even John Pendal. They are looking for someone who stands out from the crowd this year.
Be suspicious of anyone who tells you that "this is your year" or that you're definitely going to win. There's no way that anyone can know who will win, not even the judges. Every year some IML contestants take the result very badly, and some of them were told that it was "their year".
Don't let the result affect your self esteem or the service you would have given the leather community. Some people are fond of saying that the IML winner is "the best of the best of us". I strongly disagree with that statement. The IML winner is the person given the most marks by nine individuals on a single day. If you pick another nine judges or run the contest on a different day, then another winner will emerge.
However unlikely it might sound, have the "what if I win?" conversation with your partner, employer and sponsor before the competition. If you do win you will need to make plans for the year very quickly, and it helps if the people most affected by your win are working with you.
The very best advice I received before IML: "If you expect to make the cut, you won't. And if you get very upset that you weren't on the winner's block, then it was right that you didn't win."

Practical Advice
Make sure you look good the day after you win. I wasn't expecting to win and had planned to go sightseeing in Chicago on the two days after the contest. Instead I had to give a press conference and photoshoot completely unprepared after a night without sleep. I pulled a Hoist t-shirt out of my dirty laundry bag, didn't shave, and stuck a Muir cap on my head because my clippers didn't work and I hadn't been able to cut my hair in a week. I looked dreadful - yet the pictures taken that day have followed me all year. Spend some time to make yourself look good and wear some leather!!
If you meet someone else who has won IML, don't describe him as a "former IML" unless you are good friends and deliberately teasing. It is always a pleasure to meet another IML.
Try to be visible online, whether that's through a website of your own, sites where you can upload a personal profile, or sites with directories of IML winners such as Leatherpage.com or the Leather Journal. Also use the IML travel calendar to let people know which events you'll be attending, when you're already booked and when you'll be away from home.
Use a search engine (e.g. Google) to see how effectively you're communicating. If you search for your full name or "IML 2004" every few weeks you can read articles that have been published about you online and ask for corrections if there has been a serious misunderstanding.
Try not to stick to one platform all year long. You will be representing a huge community with a wide variety of problems and it would be a pity if you ignored all those other issues for your favourite subject. Also, having one message doesn't work if you travel internationally. I have tried to wait two days in each new country before giving a speech, so that I could tailor what I said to the local situation.
Always eat before an event, even if food is being provided. Eat whenever you can, because when you're in public you will be inundated with people wanting to talk to you or shake your hand. I've lost count of the number of meals I've missed because I was called up on stage just as I was leaving for dinner. Take food with you, too.
Make sure you prime someone at every event to look out for you and rescue you if you get trapped. Devise a secret signal that says "help!" or "get me out of here!" Some people can be very persistent. They appear not to draw breath in their monologue or just become so excited to see you that they have to tell you their life story. Make someone else be the bad guy who drags you away.
Learn to speak to time. If an event asks you to speak for five minutes and you stop after five minutes, the organisers will be pleasantly surprised and probably invite you back. If you are scheduled to speak for 20 to 30 minutes and you carry on for over an hour, your reputation as a public speaker will diminish and you are unlikely to be asked to speak again. If you are inexperienced at public speaking read your speech out to a friend whilst being timed. Then double it. Yes - it will take you twice as long to read the same thing in front of an audience.
Be prepared to hear some phrases over and over again until you are sick of them. If you are running low on funds during the year and need to raise some money, consider charging people for saying the following to you:

In the first two months of your year: "All IMLs say/ do that"
In months three to seven: "It's an honour to meet you"
In months eight to twelve: "Do you remember me?" (you'll make a fortune at Mid-Atlantic Leather!)

Travelling
Never agree to attend an event without a cool-off period. As soon as you win IML, people will start coming up to you inviting you to their events. ALWAYS say: "thank you for your invitation, please can I get back to you?" Your diary will take a while to take shape and until then you don't want to double-book yourself, or find that you're on the wrong side of the Atlantic at a crucial moment.
Make sure you stay at home at least one weekend a month, if not then once every three weeks. You will need this time to recharge your batteries, answer correspondence and plan your next few trips. If you have difficulty saying "no" then tell people that you've promised that weekend to your partner or sponsor.
Try to be different. If someone tells you: "we don't need to invite you because IML always comes to our event" then don't go. And if someone says: "we've never had a serving IML come to our event before" then make an extra effort to see if you can fit it in.
Go to a mix of large and small events. Larger events like Mid-Atlantic Leather will give you visibility and the chance to meet hundreds of people at once. At smaller events you'll get time off to have fun and really feel like you're making a difference by being there.
Try to use your travel fund as a top-up for events that can pay part of your expenses, rather than to go to one or two events that can't or won't pay a cent. Remember that you're under no obligation to go anywhere.
Try to travel internationally and cross the Atlantic more than once. I found it very difficult to get bookings in Europe because so many events assumed that IML was almost always an American and wouldn't travel outside the US!
There are some things I've learned to take with me on every trip: IML vest, IML medal, IML business cards, photos to sign and 2 pens that write on photographs, diary, itinerary, items to auction, earplugs (for when you're seated next to teenagers on a plane), blindfold (especially travelling to any European country without curtains), sweatshirt, sunglasses, longsleeved cotton top (to wear on the plane), vaseline lip balm, and melatonin for jetlag (if you're travelling across the Atlantic).
There is a large section of the leather community which has no time for leather contests. They may be bikers, SM players, fans of breeches and uniforms, or ordinary leatherfolk with no interest in sash queens or beauty pageants. They may have had bad experiences with titleholders in the past or see no relevance in what you are doing. Your job is to win their respect as much as that of the contest circuit crowd. Try to go to some events which have nothing to do with leather contests during your year. When you do go to a contest, ask if the organisers can book something else for you to do to meet the local community aside from the contest. It could be a fundraiser, meet and greet, BDSM demo, workshops or anything else you can think of. But try to meet other people as well as being a judge or giving a speech.

Attitude
Have some fun with the year. No-one wants IML to be too serious. (On the other hand, if you like to drink freely make sure that all your speaking/ judging obligations are out of the way first.)
Don't be a sash-queen. Have some friends on hand to slap you if you ever say the words "Don't you know who I am?", "this isn't good enough for me", "I shouldn't have to pay" or "I've never been so insulted".
Find a way to deal with criticism. Most of it is funny, easily refuted or true, such as: "You're wearing gay socks!", "The camera hates you", "European IML winners never come to America during their year", "You're not wearing any leather" (it was close to 100 degrees and I was wearing Speedos by a swimming pool), "You disrespect the boy movement!" (I have a great deal of respect for the boy movement. It's just you I don't like), "you only won IML because you had sex with the judges" (I wish! Do you know how much BDSM experience the judging panel had? Unfortunately I have yet to play with any of them). Some people will make very personal attacks so find a way to process it without getting hurt.
Try to avoid using the word "should". Your job is to make people think about issues rather than preach at them. Also you'll have a lot of new experiences during the year and you may well change your opinions.
Remember that this is a job with a twelve month contract. Come next May the whole circus will flip its allegiance to the next winner. Don't be deluded into thinking that you're special or that the thousands of people really like you. Keep your feet on the ground and see this for what it is: a chance either to do some good for the community and be remembered fondly, or ruin it by acting like a diva and be forgotten before your year is out.
I'll leave the final quote to PR expert Mark Borkowski:
"Don't get blinded by the spotlight:
it's who's looking, and what they see of us, that matters,
not the simple fact that we're standing there."

I'm taking a short break after IML so my next column won't be posted until the second week of June. In the meantime thanks for all your support.
Best wishes,
John Pendal
International Mr Leather 2003
---