Life After IML - January 2005
---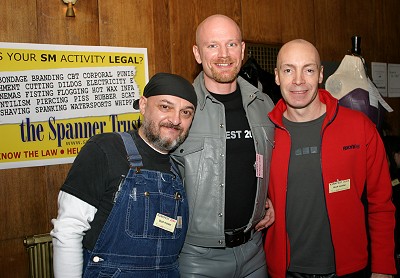 Saturday Dec 11th - Derek Cohen (left), Phil Brown (right) and I
represented the Spanner Trust at Kinkfest 2004 in London.
Photo credit: Dave Harris

On Saturday December 11th almost 600 (mostly heterosexual) kinky folk gathered in the centre of London for a new event called Kinkfest. I was invited to give a speech from the main stage in the morning and a workshop on "BDSM and the law in the UK" in the afternoon. The Spanner Trust was given space for a stall for the day, and Svein, the leader of the Revise F65 Project, flew over from Norway to give a speech and workshop as well. Congratulations to the Kinkfest organisers for featuring the Spanner Trust and Revise F65 so prominently.
Five days later I returned to the Hoist for the SM Gays Christmas party. During the evening a butler handed out slices of Christmas cake on a silver platter. Normally I'm unable to eat cake or buffet food at events, but twenty minutes later the butler returned with a special slice of gluten free Christmas cake just for me. I like SM Gays!
After that Dave and I spent our time concentrating on preparations for Christmas, pausing briefly to celebrate our eleven and a half year anniversary. Considering all the hassle Dave has had to put up with since I won IML I think this is quite an achievement!

Nearly every leather event I've attended in America has included a speech of behalf of the National Coalition for Sexual Freedom (NCSF). Last year I emailed their media spokesperson, Susan Wright, to find out more about their work and recent campaigns:
Hi Susan, can you give a brief summary of the NCSF for anyone who doesn't know about the organisation?
NCSF was started in 1997 in NYC by a group of activists known as the New York SM Activists. I was the founder and originally I had two volunteers - Lolita Wolf, who was our Outreach Director, and Kelly, our webmaster. Currently we have dozens of volunteers who work on various committees within NCSF: Media, Internet Technology, Volunteers, Law Enforcement Outreach Project, Incident Response etc.

Last year in our Incident Response programme, we worked on over 500 cases of discrimination in the workplace and child custody, false arrest, media incidents and more. You can access our complete Incident Response Overview and learn more about the work we do to help people, businesses and non-profit groups by clicking here.


What sort of services do you offer?
NCSF has several projects that offer direct services to individuals, groups and businesses. Our Media Outreach Project trains individuals on how to speak properly to the media and we provide sound bites that have been proved to work in defusing situations. NCSF also routinely does interviews with the media to debunk stereotypes about SM, swing and polyamory. We have several spokespeople who handle the different areas. We also teach people how to present information on their websites so that the media doesn't misinterpret what we're doing. To find out more go to www.ncsfreedom.org/media/index.htm

NCSF also has our Legal Education Outreach Project, which consists of trained volunteers who are lawyers who go around the country educating people, groups and businesses on how to present their events legally. For more information go to www.ncsfreedom.org/leop/index.htm

Some of our workshops are:

SM Groups & Law Enforcement: Group Issues
Swing Groups & Law Enforcement: Group Issues
The Alleged Domestic Violence Call
Zoning for SM & Swing Groups and Businesses
Approaching Your Local Authorities
Life & Death Issues for the Alternative Community
Travelling With Toys
Protecting Yourself Legally
Protecting Your Event
Doing SM Related Legal Research


Are there any areas you don't cover?
NCSF only works for consenting adults who do alternative sexual expression such as SM, swing and polyamory. When we are asked to help with a largely gay or trans-related problem, we refer those individuals to the appropriate national organisation such as Gay and Lesbian Alliance Against Defamation or National Gay and Lesbian Task Force. NCSF also only works within the United States because largely we are dealing with national laws and media.


One of the groups you're currently assisting is CUFFS bondage club, which has been fighting Iowa State University for the last year for the right to hold demonstrations on human volunteers at their meetings. How did the NCSF get involved?
NCSF gets involved when a group asks us for help. That's why it's important to get the word out so the people know there's an organisation here to help if they need some assistance.


What have you done to help?
I did a great deal of media work for Cuffs, speaking to the media to debunk the stereotypes of SM. They have an excellent spokesperson, Duane Long, who didn't even need to be trained, so that was very helpful. NCSF has also provided advice on how Cuffs should proceed with their case with the University. One of our board members has visited their group a couple of times to liase directly with them. NCSF also sent out an 'Action Alert' to get community members to write to the University in support of Cuffs, which got a terrific response.


You're also helping Barbara Nitke bring a court case against John Ashcroft, which is getting lots of publicity at the moment. Can you briefly explain the case?
Our lawsuit is challenging an unconstitutional law called the Communications Decency Act (CDA) which criminalizes free speech on the Internet. Barbara Nitke is a fine art photographer whose work is an exploration of sexual relationships, and she became a plaintiff because she feared prosecution in areas of the country where there is little understanding of alternative sexual expression. People and businesses are currently being prosecuted for violating obscenity laws. Under the Clinton administration, obscenity laws were not enforced, but the Bush administration has made obscenity prosecutions a priority. The first target under obscenity law amended by the CDA was Extreme Associates, which produces SM-themed pornography. The Federal Judicial department continues to meet with religious political extremist groups and has promised to outlaw all "obscene" material.

NCSF is challenging the CDA law because personal websites and chat groups that include discussions and images of SM, swinging or polyamory are at risk of prosecution. Since alternative sexual expression is outside the mainstream, it is an easy target. Membership groups that have educational and social websites are also at risk, in the same way SM events were targeted by religious political extremist groups in the Midwest in 2002-03.

For more information go to www.ncsfreedom.org/CDA/index.htm


Is there anything people can do to help the court case?
Yes, anyone can volunteer to help NCSF. We need as many people as possible because we're largely a volunteer organisation, with only one paid part-time office manager. You can also donate money to help support us. We are a non-profit, so every penny goes to helping people in need. You can also publicise NCSF by running our press releases on your chat lists or boards, and by putting the NCSF ad in your newsletter or magazine. Or place the NCSF banner on your website. To volunteer or donate, go to www.ncsfreedom.org/how.htm


Another part of the NCSF's work is to monitor media coverage of kink-related stories in the mainstream media. I receive your media update emails and find them very useful. Can anyone sign up to receive them?
Yes, just send an e-mail to media (at) ncsfreedom.org to ask to be signed up. The Media Updates are extremely interesting and you can keep tabs of how alt sex is being treated by local authorities and the media. There's also an archive of past media updates here.


If someone is in trouble with the police or media and needs your help, how should they get in touch?
As soon as possible, contact our Incident Response Director, Leigha Fleming at leigha (at) ncsfreedom.org

You can also call our office directly from within the US on tel: 410 539 4824. If you have a media problem, call the media hotline to reach me directly at: 917 848 6544.


How can members of the leather community help the NCSF?
Please select NCSF as the beneficiary of your fundraiser. Ask your group to join NCSF as a Supporting Member or Coalition Partner. Encourage individuals to join as members. There's a list of things you can do to help at www.ncsfreedom.org/how.htm

If you want to sign up as a coalition partner or supporting member of the NCSF please click here.
---
For more information contact:
THE NATIONAL COALITION FOR SEXUAL FREEDOM
822 Guilford Avenue, Box 127, Baltimore, MD 21202-3707, USA
Email: ncsfreedom (at) ncsfreedom.org
Web: www.ncsfreedom.org
Phone: 410 539 4824 (from within USA)
---

I hope you all have a happy and healthy 2005.

Best wishes,
John Pendal
International Mr Leather 2003

---