Being IML - August 2003
---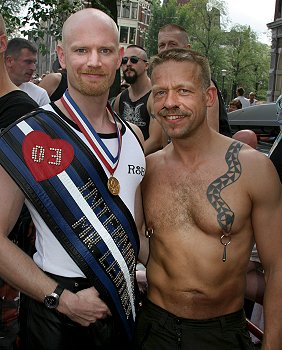 John (IML '03) and another IML
at Canal Pride 2003 in Amsterdam
Photo credit: Dave Harris

It's been an action-packed nine weeks since winning IML. David and I signed the London Partnerships Register in late June a few days after our 10th anniversary. I was granted a sabbatical from my job and my last day at work was on July 10th.

The next day I flew to Chicago for an appearance at the Chicago Eagle - my first official duty as IML outside the UK. After a week in Chicago (where I saw my first fireflies) I was driven to Omaha for International Ms Leather (where I saw my first tornadoes!).

Then it was back to Chicago for a surprise birthday party at a certain showtunes bar (many thanks to the two bears who volunteered as sound insulation) before flying home to London for Gay Pride weekend. As I write this I've just returned to home after Canal Pride in Amsterdam and am about to fly to a leather summit in Reykjavik, Iceland.

It's been great fun meeting so many leathermen. The most common question that I'm asked is: "What are you going to do with the Harley?" For those of you who don't know, part of my prize for winning IML was a brand new black Harley Davidson 100th anniversary XLH Sportster 883 motorcycle. It's a fabulous bike and I've seen it a couple of times on the wall of the Chicago Eagle. It would look great sitting outside my house in London - until bits started disappearing from it - or ticking over as I tried to ride it through London traffic jams. But I think it would look even better belonging to someone who had a lockable garage surrounded by empty roads. And if you read on, that person could be you...

There are a couple of organisations close to my heart this year: The Leather Archives & Museum (LA&M) in the US and the Spanner Trust in the UK.

The LA&M in Chicago is living proof that we are a more than a bunch of unconnected people dressing up in our favourite clothes to go drinking in bars. We are a COMMUNITY. We have a history and culture. We make stuff: books, artwork, magazines, badges, clothing, photographs, film, flags, educational materials, organisations, contests and events. The LA&M is where that history and culture can be preserved. The museum is currently located at 6418 N Greenview in Chicago and has been funded 100% by leatherfolk. In August 2004 they hope to make the final balloon payment and burn the paper the mortgage is written on. But to do that they need your financial assistance - and it's needed urgently

In December 1990 sixteen men in the United Kingdom were convicted for causing marks, bruises, cuts and other non-serious injuries in the course of sexual activity with other consenting adults. Some were sent to prison. The police investigation leading to their arrest was known as "Operation Spanner". The Spanner Trust was set up following the case to campaign for changes to U.K. law so that it is no longer illegal to intentionally cause non-serious injury during consensual adult sexual activity. This year there is a Sex Offences Bill going through the UK Parliament. It provides an opportunity to table an amendment to get the law changed. But to do that the Spanner Trust needs money for research, legal assistance and political lobbying - and they too need it now.

11th June 2004 - I asked people to make a $20 donation online to these organisations (split $10 each), in return for which they'd be entered into a free draw for my brand new, Harley Davidson 100th anniversary XLH Sportster 883 motorcycle. The raffle raised over $21,000 which will be split equally between the two causes. Thank you to everyone who bought tickets or helped to promote the fundraiser. The winning ticket was drawn during the 26th IML contest on 30th May 2004 in Chicago. The winner was David Kloss (IML 1979)!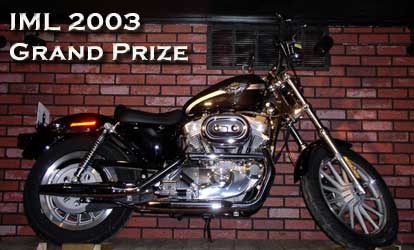 There are still ways you can show your support. The LA&M needs your donations of leather "stuff". Don't assume that someone else is saving the things you're storing, instead send an email to archives@leatherarchives.org
Make sure YOUR leather history is preserved.
Also of interest, The Spanner Trust is conducting a research project aimed at gathering information on the extent to which injury of any sort occurs during sex. The survey only takes a few moments to complete and is anonymous. If you would like to take part in this research please click here.

Yours in leather,
John Pendal
International Mr Leather 2003
---