Life After IML - November 2005
---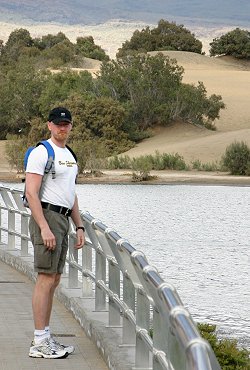 On holiday in Gran Canaria, October 2005
Photo credit: Dave Harris

I'm often asked if I believe there's such a thing as a leather or SM community. Surely you can't describe people from so many different social backgrounds linked by a single interest as a "family" or "community"? Perhaps you could call us "tribes" or "special interest groups" - but nothing more.
My answer is to watch when the group in question is under attack. If the people scatter and do nothing to help each other, they were just a bunch of partygoers having fun. But if those people of different backgrounds join forces to unite against their attackers - then they can rightfully claim the title "community".
Guess what? Our SM community IS under attack on many sides. Do you want to respond to the attacks, or do you want to be one of the socialites who ignores the threats and then wonders in a few years time where all the good SM clubs, magazines, websites and events have gone?
Even if you're not into SM - attacks on what consenting adults get up to in private are attacks on personal freedom. If you don't want religious fundamentalists, politicians or the legal system to interfere in your private life please read the following examples of recent attacks and see what you can do to help:



---

IF YOU LIVE IN THE UK:
The government has announced plans to criminalise possession of extreme pornographic material. The proposals cover actual scenes or realistic depictions of:

intercourse or oral sex with an animal;
sexual interference with a human corpse;
serious violence in a sexual context, and
serious sexual violence.
Categories three and four could be used to ban possession of images of private sadomasochistic activities between consenting adults. Prison sentences of three years are being reported in the press for people who download these images from the Internet or have them stored at home if the legislation comes into force.
The Home Office and Scottish Executive are currently conducting a three-month public consultation on the plans, which ends on Friday December 2nd 2005. If you live in the UK please go to the Home Office website and download, read and respond to the consultation paper. You can find the document by clicking here or here.
Paper copies, as well as copies in other formats such as large font or audio, are available by writing to: The Consultation on Possession of Extreme Pornography, Criminal Law Policy Unit, 2nd Floor, Fry Building, 2 Marsham Street, London, SW1P 4DF
Backlash is the campaigning organisation bringing together individuals and activist groups to oppose this legislation. For more information please go to the Backlash website. You can also make a donation towards their costs by clicking here.
---
IF YOU LIVE IN THE USA:
The Communications Decency Act (CDA) contains provisions that ban speech and images from the Internet that any local community in the U.S. could deem obscene, even though that speech would be fully protected elsewhere.
In 2001 the National Coalition for Sexual Freedom (NCSF) and Barbara Nitke, a fine art photographer who explores sexual relationships in her work, mounted a legal challenge to the CDA. The case was heard at the Federal District Court for the Southern District of NY and evidence included over 1,000 images and text by 150+ artists and website owners. At the end of the case the three judge panel ruled that NCSF members and Barbara Nitke were found by the Court to be genuinely at risk of prosecution under the CDA and that their speech has been inhibited. However, the judges went on to say:
"The plaintiffs have offered evidence that there are at least 1.4 million Websites that mention "BDSM" (bondage, discipline, and sadomasochism)... The plaintiffs have submitted images and written works that represent material posted to a small number of Websites, that they contend may be considered obscene in some communities but not in others. These examples provide us with an insufficient basis upon which to make a finding as to the total amount of speech that is protected in some communities but that is prohibited by the CDA because it is obscene in other communities."
In August 2005 Barbara Nitke and the NCSF filed a notice of appeal to the U.S. Supreme Court, of the District Court's decision in the Communications Decency Act challenge. Their appeal contends the District Court applied an incorrect legal standard for determining whether protected material was improperly banned under the CDA. The District Court also committed legal error in finding that many local communities do not have pre-determined standards of obscenity that can be verified - and then ruling the plaintiffs failed to prove what those standards are.
You can read more about this case on the NCSF's website at www.ncsfreedom.org and you can also donate money to help fund the defence by clicking here.
---
IF YOU LIVE IN THE USA:
Law 18 U.S.C. 2257 ("2257" for short) requires producers of adult material to keep records of all models to prove that they aren't children - even if it's obvious. The law has been around for over 10 years, but in May 2005 the US Justice Department gave producers of adult material 30 days notice that they were going to tighten up the rules.
Now any adult website or magazine in the U.S. has to keep clear records - including photo ID - of every model in every image used in their publication or website, even if the photo was taken before the law came into effect.
There is an explanation of the new rules in issue 9 of Instigator magazine - which is working to comply with every aspect of the legislation.
Bound and Gagged magazine closed as a result of the changes. Many SM websites hosted in the States were completely restructured or taken offline.
The Free Speech Coalition is the trade organisation of the adult entertainment industry. They are challenging the new rules in a lawsuit against the Justice Department, which is under the stewardship of Attorney General Alberto Gonzales. The suit was filed in June 2005 in the Tenth U.S. Circuit Court of Appeals and is called "Free Speech Coalition et al v. Gonzales".
You can read about the progress of the lawsuit at www.freespeechcoalition.com
---
DO YOU THINK THAT'S BAD? IT GETS WORSE!
In September 2005 the Washington Post reported that Attorney General Alberto Gonzales wants his office to target "bestiality, urination, defecation, as well as sadistic and masochistic behaviour" in pursuing new obscenity prosecutions. The Department of Justice began recruiting in late July for a new anti-obscenity squad to pursue obscenity prosecutions, and the FBI announced in September that it was forming an anti-obscenity task force to crack down on pornography.
Any website hosted in the US that has content containing "bestiality, urination, defecation, as well as sadistic and masochistic behaviour" should be forewarned that prosecution is possible. Additionally, Federal sentencing guidelines state that any obscenity-related punishment should be "enhanced for sadomasochistic material."
The Department of Justice is clearly hoping that websites will self-censor or remove their content entirely. Midori, an author who teaches classes on bondage, has removed her website BeautyBound.com citing fear of obscenity prosecution.
Both the Free Speech Coalition lawsuit against the Justice Department and the NSCF's legal challenge against the Communications Decency Act will have an impact on how many obscenity prosecutions can be brought, and thus how many adult websites and magazines will have to close.
---
Please support BACKLASH, THE NATIONAL COALITION FOR SEXUAL FREEDOM and the FREE SPEECH COALITION.
If you sit back and do nothing our attackers might come after your personal freedoms next.

Thanks for your help.

Best wishes,
John Pendal
International Mr Leather 2003

---