Life After IML - January 2006
---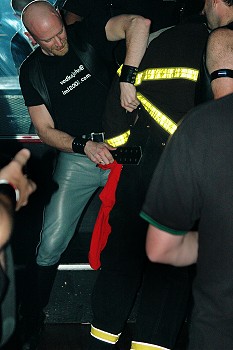 It was someone's birthday on the pub crawl. So out came the birthday paddle.
Photo credit: Steve Johnson

I hope you all had a happy holiday and peaceful New Year. I had an early Christmas present, as one of my interviews was published in an academic journal! My thanks go to Eric Chaline, who conducted the interview and made me sound smart. The article appears in the Lesbian and Gay Psychology Review Volume 6 no. 3, (Nov 2005). It's a special issue focusing on Contemporary Perspectives on Sadomasochism (S/M) and includes contributions from Dr Peggy Kleinplatz and Dr Charles Moser. To purchase a copy of the whole special issue please click here.
Last November I flew to Kansas City, Missouri, to take part in a pub crawl to raise money for the Kansas City Anti-Violence Project (KCAVP), organised by Kansas City Leather University. At first glance it might seem odd that a group of kinky leather folk who teach SM skills might want to raise money for an ANTI-violence project. However, although SM might use some activities which look violent to the outsider, there is a huge difference between SM (which is consensual and everyone respects the needs, desires and limits of others) and abuse, (which is unconsensual and limits are ignored). If you are unsure of the difference please click here.
The KCAVP board members were present on the pub crawl and Doug Riley, the Executive Director, kindly agreed to be interviewed for this column.
Hi Doug, can you give a brief summary of the KCAVP for anyone who doesn't know about the organisation?
We are a non-profit organisation, three years old and working to end domestic violence, sexual assault, and bias crimes (also known as hate crimes) against and within the LGBT community.
For more info visit our website at www.kcavp.org


What sort of services do you offer?
We offer support and advocacy to any members of the LGBT or HIV+ communities suffering from anti-LGBT harassment (examples include bashings, police misconduct and abuse, phone/email harassment, and property damage), domestic violence (partner abuse), rape and sexual assault, and pick-up crimes.

We also offer education through training and outreach programmes to dispel some of the common myths about domestic violence.

There's a full list of services we provide here.


What geographical area do you cover?
Currently, there are no LGBT-specific domestic violence or sexual assault services in western Missouri, Kansas, Nebraska, or Iowa. KCAVP was created to address this gap by providing support and services to lesbian, gay, bisexual, and transgender victims of domestic violence, sexual assault, and bias crimes in western Missouri, eastern Kansas, with a focus on the Kansas City area.


How are you funded?
Forty percent by the state of Missouri and by foundation and corporate grants. The balance of 60 percent is raised from private donations and fundraisers/ special events.

If you'd like to make an online donation please go to click here.


If someone lives in North America, but outside your geographical area, whom should they contact?
The National Coalition of Anti-Violence Programs (NCAVP) has a list of local programmes here. If your area does not have a programme, call the one that is geographically close to you and they can find resources for you in your area.


How many people did you help last year?
We have helped 85 victims and their families in 2005, a 25 percent increase in the number of LGBT victims we helped in 2004 and an 88 percent increase over those in 2003.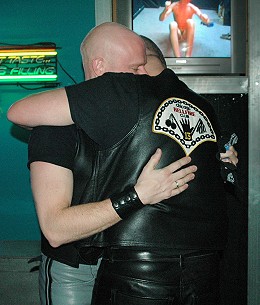 In every pub crawl there's an "I really love you, you're my best friend" moment.
Photo credit: Steve Johnson
If someone is in trouble, how should they get in touch?
If you are in an emergency situation, call 911 immediately.
For additional information, please contact KCAVP by phone: 816-561-0550 or email info (at) kcavp.org


How can members of the leather community help KCAVP?
We really appreciate the support of the leather community including the Heart of America Leather crew, the KC boys of Leather, the KC Pioneers and Kansas City Leather University.

Leather folks can volunteer by completing a volunteer profile and attending one of our volunteer training sessions. You can also ask KCAVP to speak to their social group, LGBT workplace group, or other venue, and most importantly, donating money individually or as a group.

One other important thing people can do is to let us know when they see anything in the media that looks like LGBT domestic violence, sexual assault, or bias crimes. Reporting is especially important so we know if there is a trend of violence in an area to get the community involved as well as law enforcement.

Anyone can join our email list by going to our homepage and entering their email address on the left hand side of the screen.


Finally, I'm having a little difficulty recalling the end of the evening. Can you remember anything that happened in the last bar?
I think it's best if what happens in Kansas City stays in Kansas City!!!
---
For more information contact:
THE KANSAS CITY ANTI-VIOLENCE PROJECT
PO Box 411211, Kansas City, MO 64141-1211, USA
Email: info (at) kcavp.org
Web: www.kcavp.org
Phone: 816 561 0550 (from within USA)
KCAVP is part of a network of anti-violence projects across America and Canada.
To find your nearest programme please go to www.ncavp.org
---

Have fun, look after yourselves and the people you play with.

Best wishes,
John Pendal
International Mr Leather 2003

---