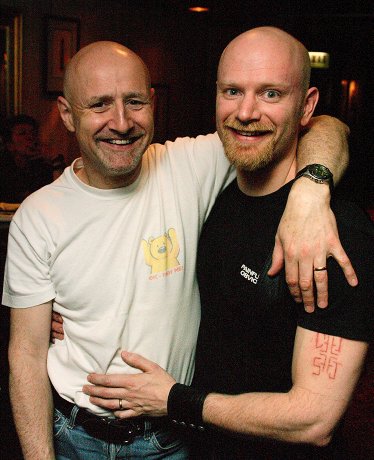 Wednesday 24th to Monday 30th May - Dave and I flew to the 28th International Leather Contest weekend in Chicago for our honeymoon. (We became Civil Partners on May 13th.) This image of the happy couple was taken by the official IML photographer BullmanX shortly after we arrived at the host hotel.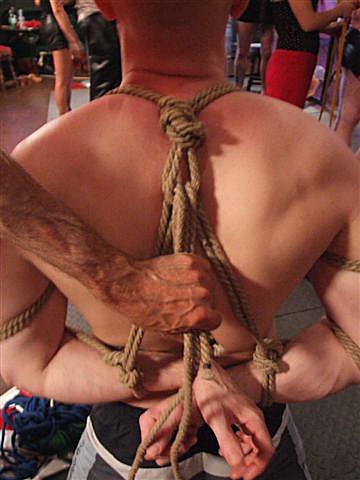 Saturday 10th June - JUST ROPE hold bi-monthly rope bondage workshops and play parties in London, and their June event included two workshops led by Chanta Rose. I started attending Just Rope events because each time they donate a portion of the entry fee to the Spanner Trust (I'm the Trust's Chairman) and I was asked to give a short speech about our work, but quickly discovered it was a great place to practise my escapology hobby. Here I am getting tied up during one of Chanta Rose's workshops (photo by Dog Trainer). If my memory is correct I had a 100% success rate escaping that day, although the final tie did take me over an hour to get out!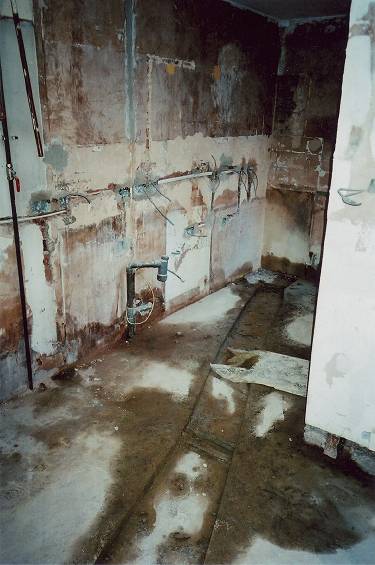 Saturday 17th June - was Dave's birthday, and it was also the day we moved out of our home for three months along with all our belongings so that some essential building work could take place. I took this photo of our kitchen three weeks in to the ten week project - but the rest of the apartment looked as bad. It's been quite an experience living out of boxes for the last month and led to us being offline for a while, so I apologise if you sent me an email and I didn't reply, now you know why!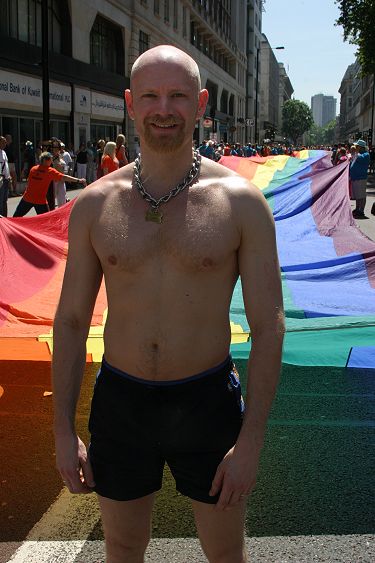 Saturday 1st July - EUROPRIDE was held in London this year, and for the first time the Pride Parade was allowed to march down Oxford Street, the main shopping street in the centre of London. The weather was glorious and after the march people had a choice of going to soundstages set up in Trafalgar Square, Leicester Square and Soho Gardens or just standing outside one of the many gay pubs in the capital and enjoying the sunshine. Dave took this photo while we were gathering at the start of the march. Other people in the parade included members of the Royal Navy, marching for the first time in uniform, and the Lesbian and Gay Police Association, also in uniform, SM Gays and Stonewall lobbying group.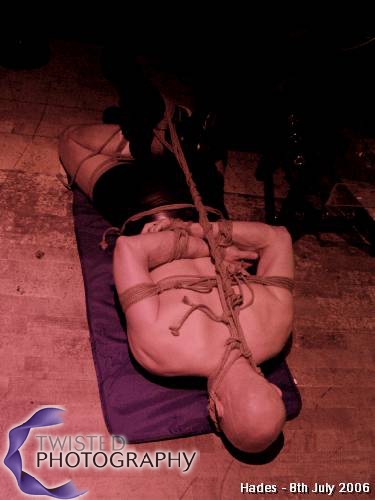 Saturday 8th July - The Spanner Trust was invited to run a stall at CLUB HADES, an award-winning straight SM club in South London. At midnight one of the JUST ROPE regulars offered to tie me up. This is a tie I couldn't escape from. Not even a little bit. It was one of the more humiliating moments of my life, as a crowd of people asked "What's meant to happen now then?", "Is he meant to be escaping?" and "When's that going to happen?".
Eventually the rigger, Master Rope Knot (MRK), took pity and untied me. Thanks to Twisted Photography for taking so many pictures of my failure.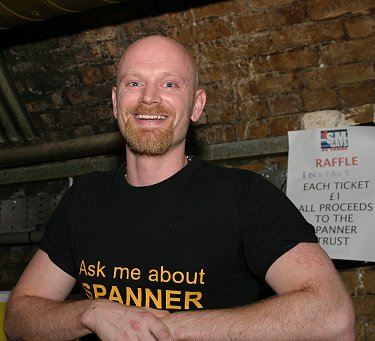 Thursday 20th July - The 25th birthday party for SM GAYS, a not-for-profit SM educational group for gay men run by volunteers. For the last ten years they've been holding "Discovery nights" and running courses at The Hoist, which is also where their 25th birthday party was held. It was a very popular night with demos, a raffle in aid of the Spanner Trust, a donation to Mildmay, and a unique way of displaying 25 candles.
Many people at SM Gays still remember the original "Spanner" trial, where 16 gay men were prosecuted for their private, consensual SM scenes based on videos they'd taken of their activities. The men were all found guilty and either fined or sent to prison as sex offenders (for up to 4.5 years!).
SM Gays has regularly donated money to the Spanner Trust, and this night was no exception. I was also invited to give a speech - Dave took this photo just after I'd finished.
You can see the Spanner Trust's latest newsletter here.