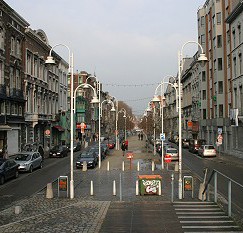 Friday 23rd March - Dave and I took the Eurostar to Liège, Belgium for a European leather weekend organised by MSC Belgium. The weekend began with a guided tour of Liège and dinner at a pizza restaurant for those who arrived early, followed by a welcome party at "The Chap's" leather bar. The guests stayed at two nearby gay-friendly hotels: Hotel La Passerelle and the Eurotel, which were completely booked by leathermen for the weekend.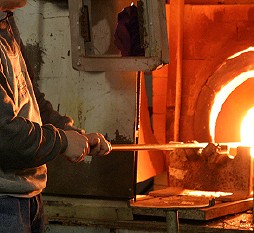 Saturday 24th March - Those who were awake before 1pm could browse the leather market provided by WESP Leder Design in one of the hotels. In the afternoon we were taken by coach to visit the crystal factory of Val Saint Lambert and were given a demonstration of a crystal vase being made (above).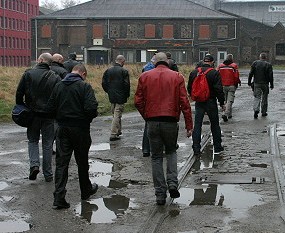 Saturday 24th March - There were leathermen from 10 countries attending the weekend, including America, Belgium, Denmark, England, France, Germany, Luxemburg, the Netherlands, Norway and Switzerland. As a result we were divided into different language groups to tour the crystal factory. The English speaking group is pictured above.