Life After IML - January 2008
---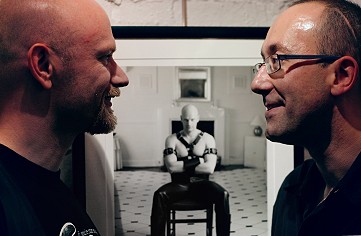 At one of Ulli's exhibitions in London at the Adonis Art Gallery, August 2005
Photo credit: Dave Harris
Happy New Year to everyone - I hope that 2008 is a happy and healthy one for you.
Let's start with some good news: on 20th December SM Gays in London donated over £1000 ($2000 USD) to the Spanner Trust. It was a fun night and many thanks go to the SM Gays committee as well as everyone who bought a raffle ticket or donated prizes.

One of my close friends is professional fetish photographer, Ulli Richter. Ulli was born in East Germany but was able to move to London after the fall of the Berlin Wall. He studied photography at the City of Westminster College and surprised his tutors with a final show consisting entirely of portraits of leather guys. We first met in 2002 and Ulli is one of the few people who's taken pictures of me before, during and after my year as an IML. (He has also taken photos of Jason Hendrix, IML 2004, which you can see here.) Ulli kindly agreed to be interviewed for this column:
---
Hi Ulli, how would you describe your work?
The quick answer to this would be "Gay Fetish Photography" but there is so much more going on beyond the initial look at the picture. First and foremost I aim at portraying the truth of a situation as much as possible, as I'm averse to everything artificial and fake in our image-obsessed quick-fix culture.

I'm trying to show real guys enjoying fetish play but without resorting to stereotypes. This is also evident in my portrait work as I try to show the real person and his soul whilst wearing some sort of fetish attribute naturally at the same time.




What led you to this career?
I've always been turned on by guys in leather and leather play so it was really just a natural progression that my photographic work would have to reflect this at some point. After studying photography in London and developing a portfolio of architectural and editorial portrait work (www.urphotography.com), I finally started collaborating with London's gay BDSM and fetish scene in 1998 and now work worldwide.

The sexual element is of course important to me but there is also the drive to create a record of a real-existing subculture that is still being shunned by the majority of society today. I'm a big fan of Martin Parr (www.martinparr.com) and feel that, in my own way, I capture fetish life and preserve it very much like he has been documenting the British middle classes since the early Sixties.


What do you think are the differences between leather communities in different countries?
During my travels I always notice a clear difference between European leather life and the US-American leather community. I feel a much stronger sense of togetherness and mutual support whenever I travel to the States. On the other hand there is more willingness to spontaneous unscheduled and raunchier play that can be found in Europe and in Germany in particular.


What are your favourite events around the world?
I'm always excited to receive invitations to people's play sessions in anything from country houses to old industrial estates. Shooting a crucifixion re-enactment in a 16th Century field chapel somewhere on the Welsh Moors has got to be very high on my list of favourite past events.

However as far as organised mass-events go, I still get a big buzz out of photographing at Folsom Street Fair in San Francisco. I've been documenting this event for 8 years now and really noticed the change from leather community gathering into a massively commercial attraction. Fortunately and surprisingly so, this hasn't spoiled the atmosphere but given it a new quality and lease of life through all-inclusiveness and real expression of sexual freedom in public. It is a mad day and still worth flying halfway across the world for.




What work have you done with Instigator magazine?
I'm very fond of Instigator especially because of the dedication and devotion of its editor, Michael Thorn. Michael has managed to give birth to his vision of a gay fetish magazine that has genuine editorial content and artistic merit. Instigator is as hardcore as it is courageous and truly raises the bar for all those other 'leather/ party/ clubbing' publications clear out of sight!

I've been working with the Instigator for 2 years and look forward to a continuing collaboration. Most issues contain my photo stories of guys involved in fetish play and other raunchy activities as well as individual contributions illustrating articles and editorial features.


What advice do you have for someone wanting to follow in your footsteps?
I believe the most important thing is genuine passion! If you feel that what you are doing enriches your life and gives it a strong sense of meaning than it's for you. If you want to become wealthy then investment banking is the way to go. And as for fame - trying to please other people with the images you take is the worst thing you can do.

Find out who your true friends are; care for them like for the precious possession that they are and listen to their advice and opinions.

Good equipment is important but not everything. You can take great shots with a disposable camera as long as you've got the photographic eye.

Finally, abandon all thought of ever having any spare time or even the hint of a social life again!


What do you think about the UK government's proposals to criminalise possession of extreme pornographic images?
This is a gravely worrying development that will affect our civil liberties as a whole. We live in a time when scaremongering and hype are being used to distract the masses from truly more pressing issues. I'm very much opposed to the use of individual (albeit most regrettable) cases to base an entire legislation on. Extreme pornography exists and so do cults and sects and a whole range of alternative lifestyles. The issue here however is that everyone should be left to choose for himself once he is of legal age.

I am very grateful for the tireless campaigning and vital work of Backlash and the Spanner Trust as both have helped enormously to raise awareness of this problem.

With Ulli in San Francisco, Sept 2003
Photo credit: Dave Harris


If someone wants to buy copies of your work where can they go?
There will be a webshop selling posters and greeting cards which is due to launch in spring 2008. In the meantime I'm selling limited edition fine art prints through my website: www.kinkinprint.com

Greeting cards are being sold at RoB London as well as MrB, Gays & Gadgets and PinkPoint in Amsterdam.

A large selection of fine art prints can be viewed and purchased at Coffee, Cake & Kink, 61 Endell Street, London as well as at the MrB Store, 89 Warmoesstraat, Amsterdam.

MrB is also kindly providing the venue for my latest exhibition "Pornographic Virtue" until 12th May 2008.


What about if someone wants to book you for a photoshoot, or to be the official photographer at an event?
I'm happy to discuss private photo sessions, whether they are play or portrait shoots. I work in my central London studio but am also happy to venture out and shoot on location and abroad.

I always welcome people approaching me about coverage of a serious leather/ fetish event. My email address is


studio (at) ullirichter.com


Thanks Ulli and good luck with all your projects this year.
---

Have fun, look after yourselves and the people you play with.

John Pendal
International Mr Leather 2003
---