Life After IML - January 2009
---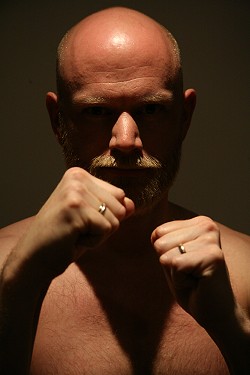 London, July 2008
Photo credit: Dave Harris

Welcome to 2009. I hope you had an enjoyable holiday period and peaceful New Year. January is traditionally the time for making resolutions. I took a few kickboxing lessons last year but my new year's resolution is to earn a belt so that I'm no longer the person at the end of the line when we line up in class!

You're never too old to learn some new tricks, so in case you want to improve your skills in the playroom here's a list of SM educational events in the first five months of this year. I'm sure the following is not a complete list, but it includes events I've attended, heard about by reputation or which answered my emails requesting further information.

Sadly, all of the following are in North America. I have tried to find SM educational events outside the USA and Canada, but without success. If you know of any please ask them to contact me (SMevents (at) iml2003.com) and I'll gladly include them. Alternatively if you'd like to set up an event and need some help please email me and I'll supply names of willing presenters.
---
January 2009
SO YOU WANT TO BE KINKY?
Held in Toronto, Ontario, Canada
on January 18th 2009
www.mrlt.com
Two workshops will run on Saturday afternoon between 2pm and 6pm. Doors open at 1.30pm. Entry is $10 and restricted to people aged 19 or over.

SOUTHWEST LEATHER CONFERENCE VII
Held in Phoenix, Arizona, USA
from January 23rd to 25th 2009
www.southwestleather.org
"Over 500 leathermen and women are expected to attend, and we have more than 30 workshops scheduled over three days. Many of the presentations will focus on the interpersonal and spiritual dynamics of D/s relationships and SM practices. We also have a cocktail reception, vendor market, bootblacking, and on-site play parties Friday and Saturday nights."
---
February 2009
DETROIT AREA ROUGH AND KINKFEST WEEKEND (DARK)
Held in Detroit, Michigan, USA
from February 6th to 8th 2009
www.lifedetroit.com/dark.php
"This will be Leather Institute for Education (LIFE) Detroit's fifth annual DARK Weekend. There will be 7 presenters giving nine presentations over Friday and Saturday, with a closing keynote presentation on Sunday. We average attendance of approximately 150-200 people for the weekend from newcomers to seasoned veterans; men, women, transgendered, couples, gay and straight."

WINTER FETISH FAIR FLEAMARKET 32
Held in Providence, Rhode Island, USA
from February 13th to 15th 2009
www.nelaonline.org/fff.php
"At the last count there will be approximately 18 presenters giving 30 workshops. We average between 2,700 and 3,500 people attending. The event is mainly straight but has something for everyone, gay, lesbian, trans - all are welcome. Don't forget the HUGE vendor market with over 80 companies present!"

LUPERCALIA MMIX
Held in Edmonton, Alberta, Canada
from February 13th to 15th 2009
http://lupercalia-edmonton.com
"Lupercalia is a pansexual event with the majority of attendees being straight. We're Canada's largest annual BDSM/ Leather conference. With this being our 10th anniversary we're bringing back the people's favourite presenters from past years. In addition to the workshops on Saturday and Sunday we also have a toga party on Friday night, play parties Saturday and Sunday night and the popular awards brunch on Sunday morning. All are included in the ticket price."

SOUTH PLAINS LEATHERFEST
Held in Dallas, Texas, USA
from February 27th to March 1st 2009
www.southplainsleatherfest.com
"This year we're celebrating our 10th anniversary as one of the premiere educational weekends in North America for people interested in the alternative lifestyle, with an expected attendance of 800 registrants. The weekend combines 52 workshops on BDSM and Master/ slave relationships, and lectures by approximately 36 of the best known presenters in North America. In addition to the educational tracts, we have a vendor market, on-site dungeon, the International Master/ slave contest and a Sunday brunch."
---
March 2009
INTERNATIONAL MS LEATHER (IMsL)
Held in San Francisco, California, USA
from March 19th to 22nd 2009
www.imsl.org
"650 people attended IMsL last year and we're expecting more in 2009. Our event is focused on ALL types of Leatherwomen and EVERYONE who loves them. It's a trans-inclusive mix, heavy on dykes and gay men but a good number of bi-sexual and heterosexual folks attend, too. We have 11 SM presenters lined up, but we're doing our educational programme in a different way this year. We have three in-depth sessions on Friday afternoon, which will go beyond the basic. Saturday we have over a dozen 90-minute workshops. On Sunday there will be a chance to put what we've learned into practice!"

KINKFEST 2009
Held in Portland, Oregon, USA
from March 27th to 29th 2009
www.kinkfest.org
"The Portland Leather Alliance (PLA) is holding its 11th annual Kinkfest over three days in March. This pansexual event features 30 vendors, 30 workshop presentations on Saturday and Sunday, an 11,000 square foot dungeon, all which is attended by approximately 500 kinky people. Kinkfest will also feature special hotel rates for attendees, no-host buffet breakfasts and lunches, kinky entertainment, surprises, kinky fun, and plenty of M&M's."
---
April 2009
SO YOU WANT TO BE KINKY?
Held in Toronto, Ontario, Canada
on April 19th 2009
www.mrlt.com
"This series of quarterly interactive workshops is designed for people interested in learning more about fetish culture. This group is ideal for beginners, as many of the workshops are designed for people with little or no experience."

CLEVELAND LEATHER AWARENESS WEEKEND (CLAW)
Held in Cleveland, Ohio, USA
from April 23rd to 26th 2009
http://clawinfo.org
"The 8th annual CLAW features parties, banquets, vending, auctions, and entertainment. We plan to have between 10 to 15 presenters giving over a dozen workshops on an array of BDSM topics starting Friday afternoon running through to Saturday evening. The weekend concludes with a leather variety show. CLAW is 100% non-profit and has donated over $140,000 to charity. It's a pansexual event, but most of the attendees are gay men."

BEYOND LEATHER 2009
Held in Fort Lauderdale, Florida, USA
from April 24th to 26th 2009
http://beyondleather.net
"Beyond Leather is a national pansexual event held over three days. With 50 educational workshops from new skills all the way to hard core edge play, 30 well known national presenters, 8700 sq feet on site dungeon space, exciting vendors, 5 gourmet meals, 4 theatres, Keynote speech by Master Z of Dallas all in a 4-star upscale hotel, how can you not join this fun time?"

SPRING IN THE SOUTH
Held in Atlanta, Georgia, USA
from April 24th to 26th 2009
www.atlantasmsolidarity.org
"The title of this year's event is "Trust" and around 6 presenters will be giving 16 classes over the weekend. Although we are an all gay male group, the event will be open to all that want to learn more: gay, bi, transgendered and straight. We usually have about 100 people to attend. We like to keep it small so that we don't loose the intimacy of the event."
(I attended this event in 2008 as a presenter and can thoroughly recommend it.)
---
May 2009
TRIBAL FIRE
Held in Oklahoma City, Oklahoma, USA
from May 1st to 3rd 2009
www.tribalfireokc.com
"We've got three days of classes covering all aspects of fetish from beginner to expert. As well as workshops we have a vendor market, two full Dungeon Parties, two same-sex Play Parties, the Mr & Ms Great Plains Olympus Leather Contest, the Friday Night "Meat'n'Greet" and our fabulous Fetish Gala!"
(I'll be attending this event as one of the presenters.)

SHIBARICON
Held in Chicago, IL, USA
from May 22nd to 25th 2009
www.shibaricon.com
"Shibaricon is the world's premier annual exhibition and conference that focuses on education and information exchange among lovers of Japanese rope bondage. The event offers 4 days of education, fun and friendship, including more than 85 classes from over 40 presenters and 3 nights of play. This will be our 6th year - please come and join us!"
---

Have fun, look after yourselves and the people you play with.

Best wishes,
John Pendal
International Mr Leather 2003
---