Life After IML - September 2009
---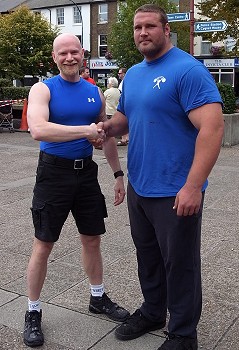 Sunday 30th August 2009 - Meeting Terry Hollands in Gravesend, Kent

The highlight of the last month was attending a strongman contest in Kent and meeting one of my heroes: Terry Hollands. Terry was Britain's Strongest Man in 2007 and placed third at World's Strongest Man the same year. He spent the day having his photograph taken with fans and signing autographs. He had seemingly endless patience no matter how many times his conversations were interrupted - a true role model for leather titleholders everywhere.
SM Education

There are quite a few SM educational events in North America over the next few months. (I still can't find any in the rest of the world, if you know of any please email SMevents (at) iml2003.com) Here's a list of the events I've attended, heard about by reputation or which answered my emails requesting further information:
---
September 2009
Master/ slave conference 2009
Held in Washington, DC, USA
from September 4th to 7th 2009
www.masterslaveconference.org
"An exploration of ideas and customs concerning the practice of Dominant/ submissive relationships." Over 40 presenters will give workshops over Saturday, Sunday and Monday.

Now That You're Kinky...
Held in Toronto, Ontario, Canada
on Saturday 12th September 2009
www.facebook.com/group.php?gid=118361455896
"The first Now That You're Kinky workshop will be held on Saturday 12th September at 2pm, at Northbound Leather, 586 Yonge Street, Toronto. This group is designed for experienced BDSM players who want to learn something new and is not for beginners. The first workshop is entitled 'Playing with Fire' by Mistress Victoria Windsor. Attendees are encouraged to join in under supervision."

Beyond Vanilla XIX
Held in Dallas, Texas, USA
from September 25th to 27th 2009
http://beyondvanilla.org
"This year (our 19th) we will have 21 presenters giving 31 workshops over Saturday and Sunday, aimed at beginners through to the very experienced. We have between 200 and 350 attendees, mostly from mostly the US but we do have some international visitors as well. It is truly a pan-sexual event with gay men and women mingling happily with heterosexual couples, bisexual couples, transgendered persons and just about every other sexual expression imaginable. The International Puppy Trainer Conference is back with us providing a puppy mosh pit for our human puppies, and sometimes kitties too, and offering a morning coffee delivery service as well. We would love to have you join us!"

Kapital Kink
Held in Ottawa, Ontario, Canada
from September 25th to 27th 2009
http://www.kapitalkink.com
"Kapital Kink takes place over 3 days and includes 9 workshops, a hands-on 'Xploratorium', a very kinky play party, Fetish Ball and a farewell brunch. This event is open to all orientations and attracts all manner of people. The Fetish Ball is an extravaganza featuring firebreathers, puppy play, post apocaplyptic performers and other wild stage shows."
---
October 2009
So You Want to be Kinky?
Held in Toronto, Ontario, Canada
on Sunday 18th October 2009
www.2bkinky.com
"These quarterly workshops are aimed at people who have little or no BDSM experience. Events are held at Goodhandy's, 120 Church Street (2nd floor), Toronto from 2pm to 6pm. Entry is $10 at the door and restricted to people aged 19 or over."

Kinky Kollege
Held in Chicago, Illinois, USA
from October 23rd to 25th 2009
http://kinkykollege.com
"The 5th Kinky Kollege will take place in Chicago at a major airport hotel. Over 1000 attendees from all over the world will be attending. 24 of the most famous gay, lesbian and pansexual alternative lifestyle educators have agreed to present 48 classes. The theme for this year is Beyond The Edge and proceeds will benefit the Leather Archives & Museum, National Coalition for Sexual Freedom, Test Positive Aware Network and other Leather SINS 'We Care' Charities."
International LeatherSir/ leatherboy Weekend
Held in San Francisco, California, USA
from October 29th to November 1st 2009
www.leathersir.com
The ILSB weekend also includes a range of SM workshops from 18 presenters. There will be 5 classes on Friday and 11 on Saturday, all at the host hotel. Although predominantly a gay event all people are invited to attend and take part.

Black Rose 2009
Held in Washington, DC, USA
from October 30th to November 2nd 2009
www.brevent.org/br09/index.php
"BR09 is expected to draw over 800 folks from the entire spectrum of BDSM for three days of classes, shopping, socialising and PLAY! We have over 25 top notch presenters from across the nation presenting more than 65 classes with topics as diverse as our attendees. BR09 will include a fun mix of special events including fundraisers for NCSF and our annual awards banquet to honour those who give so much to our community."
---
November 2009
Mr Leatherman Toronto (MLT)
Held in Toronto, Ontario, Canada
from November 27th to 29th 2009
www.mrlt.com
"The weekend seminar program is a large and important part of the Mr Leatherman Toronto Competition Weekend. Last year more than 350 people attended 18 workshops at the host hotel over Saturday and Sunday. Applications are currently being accepted from those wishing to present workshops at this year's event, and the final line up will be published on the MLT website. "
(I was one of their presenters in 2007.)

November 2007 - Teaching a class on rope bondage for amateur escape artists at Mr Leatherman Toronto
Photo by Dave Harris
---

Have fun, look after yourselves and the people you play with.

Best wishes,
John Pendal
International Mr Leather 2003
---