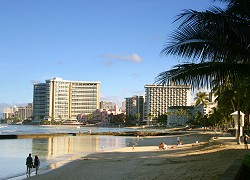 Photo credit: Dave Harris
Tuesday June 1st - Flew from Chicago to Hawaii, arriving at the Cabana Waikiki mid-afternoon. Spent the rest of the day unpacking, having dinner at sunset and walking along the beach at night.
Wednesday June 2nd - Swam in the sea and worked out at 24 hour fitness. In the evening we took a sunset dinner cruise on a 3 storey high catamaran with several hundred other people. Fortunately our hotel warned us it was worth paying extra for a little privacy on the top deck.
Thursday June 3rd - Another lazy day of swimming, sunbathing, dinner and moonlit walks along the beach.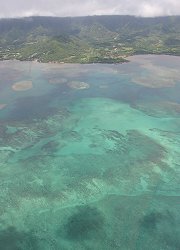 Photo credit: Dave Harris
Friday June 4th - Our first helicopter ride. Flew around the island past steep mountains with sharp ridges, waterfalls, fantastic beaches on the north shore and Pearl Harbour. In the evening we visited a traditional Hawaiian restaurant to try Kulua pig and Laulau plate, followed by several rounds of cocktails in Hula's bar with some friendly American bears.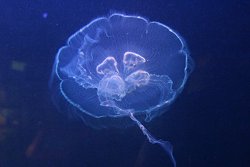 Photo credit: Dave Harris
Saturday June 5th - Gym in the morning and sunbathed in the afternoon, because at 5pm we were collected for a photoshoot for DaKine, a local gay magazine. There's a reason why no-one wears leather in Hawaii. It's so hot! It's even worse when you're wearing full leather and two volunteers are holding mirror boards to shine extra sunlight on you. Dave took his camera along, you can see some of his pictures here.
In the evening we returned to Hula's bar for more drinks with our American bear friends.
Sunday June 6th - Sunbathed and swam in the morning, then went to Waikiki University aquarium in the afternoon (above). Watched the sunset during dinner and then went home to pack.