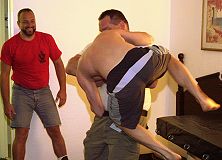 Photo credit: Dave Barker


Friday 17th October - Checked in to the hotel where Leather University was taking place. This was a fabulous weekend and one of my favourite events of the year so far.

It's an annual BDSM educational event dressed up to sound like a University. So the teachers (whom I'd seen playing at other events but had been too afraid to approach before) were called "faculty", the final dinner was called "graduation" and if you'd attended L.U. for 4 years you were handed a "diploma".

That's me "flying" in the photo (above) - I'll leave you to guess what class I was taking, but it's not "ways to impress your osteopath".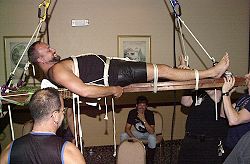 Photo credit: Dave Barker


Sunday 19th October - Why was Leather University such a fun event? The quality of teaching was excellent. It's produced by gay men and lesbians yet everyone was welcome to come and participate. Classes ranged across many BDSM subjects from beginner to advanced, both mixed and single sex, with a chance to do homework outside the classes.

I had several prejudices challenged during the weekend, which is always a good thing. I felt very safe because the tutors weren't going to go to extremes with a class full of students watching.

We also got to practise on SPO "International Deaf Leather 2001" and his interpreter Bill in the suspension class (above).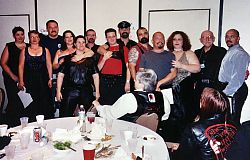 This year was the 8th Leather University, but the first time that they'd had a Bootblack Track. I was lucky enough to have my boots polished by Black from Toronto and Richie Chameroy "International Mr Bootblack 2003".

The graduation meal included an auction for charity, led by faculty member Mitch Herman. (Somehow I wound up being carried over Mitch's shoulder for part of the auction - if anyone has any pictures of this moment please email them to john (at) iml2003.com)

After dinner there was time for official photographs, including group shots of the faculty (above), and more socialising but I was whisked back to the Ramrod Bar to be a judge at the Mr Ramrod Contest.