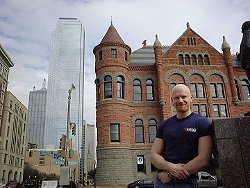 Wednesday January 21st - Flew to Dallas to stay with Sebastian, whom I'd met at Leather University last October, and his partner Elmer. Only one slight hitch on the way: my newly polished Ranger boots set off the bomb detection equipment at Dulles airport and security staff wanted to confiscate them. I had to get out my IML medal and beg!

Dallas is full of big men, big trucks and a mix of old and new buildings (above). Wednesday night I attended a Cigar Club meeting at the Dallas Eagle, and Thursday night I returned for "Big Mens Club and Bears Night".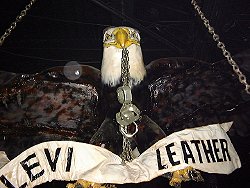 An enormous model eagle hangs from the ceiling of the Dallas Eagle.


Friday January 23rd @ 7:30pm - Attended the opening of Woody's, a new sports bar in Dallas run by the owners of the Dallas Eagle.

At 10pm Sebastian and I raced back to the Eagle in time for a raffle to benefit the AIDS Services of Dallas and the Spanner Trust. The team of ticket sellers worked really hard measuring out strips of tickets (from crotch to floor) and raised a record total for Friday nights.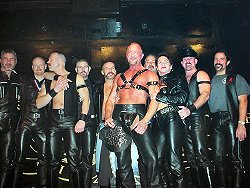 Saturday January 24th - Spent the morning interviewing both contestants for the Mr Texas Leather contest. The judges went to Big Al's BBQ for a HUGE lunch. I've noticed that my waistline has increased by an inch every day that I've been in Texas. Maybe this is why all the men are so big... Returned to the Eagle in the evening for the contest.

Above L to R: Mark Frazier (one of the Eagle owners), me, Ken Fiegel (Mr Texas Leather 2003), Steven Weber (IML 2002), and contest winner Rick Iber (Mr Texas Leather 2004) holding his winner's patch and surrounded by the rest of the judges.