Life After IML - November 2004
---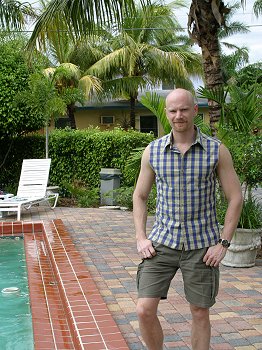 At The Cabanas, Fort Lauderdale, Oct 2004
Photo credit: Dave Harris

October came and went and my life shows no signs of slowing down. On top of a new full time job and regular Spanner Trustee meetings I attended a party at Fettered Pleasures (London) as part of the Skin Two Rubber Ball weekend, became an Associate member of the Chicago Hellfire Club, Dave and I flew to flew to Fort Lauderdale to attend Dungeon 901, and I received my first pay cheque in 14 months (which was very welcome).

Dungeon 901 was quite an experience. It's an annual educational event organised by Leather University and is now in its ninth year (hence the "901" in the title). Attendees were able to choose between participating in a bootblack track, a whip track or a schedule of mixed classes. I was able to introduce Dave to my friends at Leatherwerks and Happy Tails and be a demonstration model for a couple of classes. Someone found out that I lacked the ability to swim underwater so they threw me in the pool at every opportunity until I'd learned not to inhale water. I was also presented with my new Chicago Hellfire Club patch in a very memorable fashion.

I was planning to write a serious and politically charged column this month, but following this week's US election results where 11 states voted to ban same sex marriage I think we need some cheering up. So here's something altogether more light-hearted.

It's been over five months since I stepped down as the current IML. Some of my strongly held feelings have disappeared. For example, my frustration at having constant jet-lag has faded to such a point that I now look forward to travelling to leather events every month. While other passions, such as my support for the Spanner Trust, have grown stronger since May.

Now that I have some distance, what are the other long-term effects of my IML year? Here are a collection of lasting impressions, in no particular order of significance:
I've learned to drink coffee. Before winning IML I didn't drink coffee. When I started travelling I took enough tea-bags with me to make one cup per day. Then I discovered that outside the UK, very few kitchens where I stayed included an electric kettle. I started boiling water in saucepans to make tea but then my host would become intrigued by what I was doing and ask to have a cup with me and I didn't have enough bags ... it just became easier to learn to drink coffee. And now I find that sometimes I want coffee more than tea. It's all very disconcerting.

If you're allergic to gluten, move to America. I'm highly allergic to gluten, which is found in wheat, rye, barley and there's a very similar protein in oats. In Britain we have a wheat surplus so any manufactured product or modified starch is likely to contain wheat. In America there's a corn surplus so most products use corn starch or corn syrup, which I can eat. As an example: McDonalds milkshakes are gluten free in America but they contain gluten in the UK. I enjoy eating out in America.

We really are two continents separated by a common language. Towards the end of my title year I started an English-American dictionary on this site. It's generated more correspondence than all my other columns put together.

Handcuff keys bought in Europe don't open handcuffs made in America. I learned this the hard way.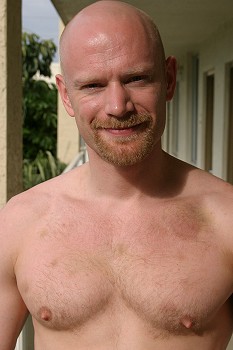 At DUNGEON 901, Fort Lauderdale, Oct 2004
Photo credit: Dave Harris

And now for some serious ones:
We need to find ways to disagree with each other without becoming disagreeable. I heard a lot of criticism during the year and even more since I stepped down. It seems that every leather event, organisation and member of the community has their detractors. Often the criticism is based on a misunderstanding, out of date information or rumours that are spread around getting exaggerated along the way. Where criticisms are valid their point may be lost in a barrage of name calling and unhelpful judgements. We need to find ways to criticise constructively or not at all.

My feelings towards other titleholders have become stronger. Now that I've had a chance to step back, I'm even more impressed by the titleholders that volunteer their time and do a good job. On the other hand I've grown angrier by the stream of stories I hear about titleholders complaining that they haven't been treated well enough, they didn't get enough applause, their hotel room wasn't a suite, they didn't have enough space in the programme, they weren't treated with enough respect etc. I want to shout: "There's a very good reason why you aren't being treated with respect!"

There are a lot of people working hard for our community who shun the limelight. They don't want any personal publicity and turn down awards nominations and interview requests. As a result there's a tendency to take what they do for granted. Please show your appreciation for the work they do: they are the backbone of our community.
Look after yourselves and the people you play with.

Best wishes,
John Pendal
International Mr Leather 2003

---