Life After IML - September 2005
---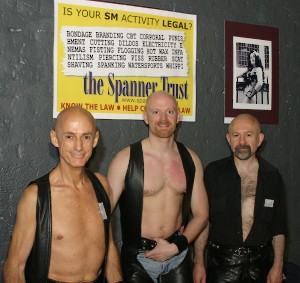 Three Spanner Trustees running a stall at KINKFEST 2, July 2005. (Left to Right: Ian Gurnhill, me and John Lovatt)
Photo credit: Dave Harris
In the last weekend of August Hurricane Katrina swept across several states in America causing utter devastation, particularly to New Orleans. I visited that city in April 2004 as part of my IML travels and find it difficult to believe the pictures that are now being shown on the news.
Please support the relief efforts any way that you can. 361 American Red Cross shelters are open in 9 states: Alabama, Mississippi, Louisiana, Texas, Tennessee, Arkansas, Florida, Missouri and Georgia, with many more on standby. Click here to donate to the American Red Cross in US dollars (go to "Donate Now") or click here to donate to the British Red Cross in pounds sterling. Thank you.

On July 30th 2005 a volunteer organisation called Unfettered hosted KINKFEST2 at the SeOne club in London. The event included a fetish market, community stalls, workshops and speeches during the day and then a party late into the night.
The Spanner Trust is very grateful to have been invited to take part in KINKFEST2. (You can read my previous columns about the Trust's work here and here.) We ran a stall in the community area throughout the day and the organisers put on a spanking booth as a fundraiser for the Trust. Various trustees also ran workshops on Percussive Play, BDSM and the law in the UK and Unarmed BDSM: Men who do SM with men. On top of that I was invited to give a speech from the main stage - so by 7pm I was well and truly exhausted!
Here are some of the questions and comments we received that day:
What SM activities are illegal in the UK?
The original Spanner trial (Regina V Brown and Others) was brought under the Offences Against the Person Act 1861, which deals with assault. It is legal in the UK to consent to an assault where injuries occur if it is for medical reasons (visiting the dentist or a hospital operation, for instance), during sporting activities (rugby, boxing etc.), for cosmetic procedures and body decoration (e.g. plastic surgery, tattooing or piercing) or for "entertainments" (such as knife throwing).

It is not legal to consent to an assault if sexual pleasure is the aim and the resulting injuries are more than "transient or trifling". The phrase "transient or trifling" has never been defined in UK law, but any SM scene that causes bruising, cuts, welts, burns, marks, reddening of the skin or bloodshot eyes lasting more than a short time may well be considered illegal.

Isn't consent a defence?
No. If anything, consent makes the situation worse. If you are punched and have not given your consent, only the person doing the punching has committed an offence. If you have asked to be punched for sexual pleasure and it results in a bruise or other injury then you have also broken the law, by aiding and abetting an assault against yourself!

Doesn't the Spanner ruling only affect gay people?
No. Since the original Spanner trial we know of three people in the UK who have been prosecuted for SM scenes under the Offences Against the Person Act 1861. All three defendants were heterosexual men who had been topping female submissives.



In the percussive play workshop at KINKFEST2, led by Ian. The caption is: "That left a mark! It did! Right there!!"
Photo credit: Dave Harris

What has the Spanner Trust been doing in the last few years?
Our recent work has included lobbying members of both Houses of Parliament, networking with other civil rights groups, ongoing work with a senior Queen's Counsel and making a submission to the Home Affairs Select Committee which was lodged in the House of Commons library.

We have also helped individuals who contacted the trust for legal advice or who were experiencing a range of problems due to their SM activities. (For example custody cases, possible blackmail or having videos impounded by customs and excise.)

We have also presented educational workshops on "BDSM and the law" at gatherings and events, or the difference between "consensual SM and abuse" for examiners at the British Board of Film Classification (BBFC). The latter resulted in a change in the guidelines of the BBFC about which rating certificate consensual SM videos should be given.

How is the Trust funded?
We are funded by private donations and fundraising events put on by the community. All the money donated to the trust goes towards campaigning to change the law.

I signed up as a supporter via your website, but haven't heard from you since then.
I'm sorry about that. The Trust has only four trustees and we do this in our spare time. We desperately need volunteers to share the work of fundraising, PR, keeping supporters informed, managing websites or handling the other everyday tasks typical of a campaigning organisation. However, even allocating tasks to the people who have volunteered to help takes time! If you can help please email us at info (at) spannertrust.org - and if you've already done so, please be patient, we will reply eventually!

I have a prize to donate for your next fundraiser.
Unfortunately we don't have time to run our own fundraisers, for the same reasons as the answer above. If you are able to run a fundraiser for us (or find a club or event that can use your prize to raise money for the Trust) we would be extremely grateful. You can send us the proceeds of the fundraiser in UK Pounds, US Dollars or Euros online via Paypal by clicking here, or by sending a cheque to the Trust (preferably in UK pounds).

I heard you were planning a court case.
Under the Human Rights Act 1998 we have the option of taking the Government to court to force them to recognise that consensual sexual activities which cause no lasting harm are no business of the law.

For that to happen we need some UK based SM practitioners willing to make statements to be read out in court that describe how the current law puts them at risk of prosecution. It's possible for the claimants to be anonymous and the Spanner Trust will manage any financial implications.

We also need money to pay for the court case. We need to raise £250,000 but it all starts with the £5 or more that you can give us. Making a donation is easy - please click here to make a donation via Paypal.

We have prepared a leaflet which you can download as a .pdf file from here. Please print it out and distribute copies if you can.

We've also started a new email list for sending out updates on our work. To join please send an email to subscribe (at) spannertrust.org

Thank you.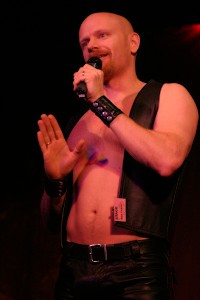 Giving a speech from main stage at KINKFEST2
Photo credit: Dave Harris
---
Since KINKFEST2, the UK Government has announced plans to crack down on possession of extreme pornography in four areas:
intercourse or oral sex with an animal;
sexual interference with a human corpse;
serious violence in a sexual context, and
serious sexual violence.
Prison sentences of three years are being reported in the press for people who download these images from the internet or have them stored at home if the legislation comes into force.

This has scared the UK BDSM community as images of consensual SM scenes may be caught in the ban.

The Home Office and Scottish Executive have launched a consultation on the possession of extreme pornographic material. The Spanner Trust recommends that all those concerned go to the Home Office website and download, read and respond to the consultation paper. The closing date for submissions is 2nd December 2005. You can find the consultation paper by clicking here or here.

Paper copies of the consultation document and copies in other formats such as large font or audio are available by writing to: The Consultation on Possession of Extreme Pornography, Criminal Law Policy Unit, 2nd Floor, Fry Building, 2 Marsham Street, London, SW1P 4DF.

A coalition of interested groups and members of the public has formed to respond to the document. The group is called BACKLASH and began with a free public meeting on Friday 9th September at Conway Hall in Central London. The meeting included representatives of Unfettered, the Spanner Trust, the Sexual Freedom Coalition and SM Pride. The next meeting will be held on Monday October 10th at 7.30pm at Central Station, Wharfdale St, King's Cross. Central Station is a friendly gay pub and Backlash will meet in the Sports Bar on the first floor. For more information go to www.unfettered.co.uk/backlash/index.html
---
Look after yourselves and the people you play with.

Best wishes,
John Pendal
International Mr Leather 2003

---