Life After IML - June 2006
---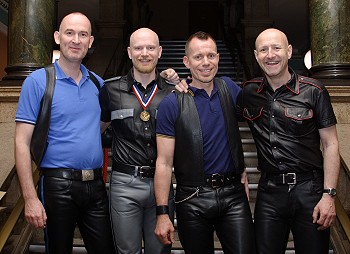 Saturday 13th May - With our best men from the Netherlands, Henk and Rene, after our Civil Partnership ceremony.
Photo credit: Ulli Richter

On Saturday 13th May Dave and I registered as a Civil Partnership, which grants us all the rights of a married couple in the UK. That means I'm officially a step-dad to Dave's daughter and son. We celebrated with a champagne reception in our back garden that lasted over 9 hours - some guests remember more of it than others!
Two weeks later we flew to Chicago for our honeymoon, which also happened to be IML weekend. This year Canadians won both titles, with Bo Ladashevska (Mr Leather Montreal 2006) becoming the 28th International Mr Leather, and Benjamin Palmer from Vancouver winning the International Mr Bootblack 2006 contest. Congratulations to all the Canadian IML contestants, as all four placed in the top 8 out of a total of 51.
Highlights of the contest for me were the speeches given by Matt Foreman, Executive Director of the National Gay and Lesbian Task Force, and by Rick Storer, Executive Director of the Leather Archives & Museum. Matt Foreman's speech was based on one he delivered at the 10th Leather Leadership Conference in April, which has been transcribed here. Rick Storer has kindly agreed for his speech to be reprinted below.
---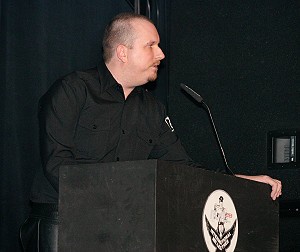 Sunday 28th May - Rick Storer, delivering his speech at the Chicago Theatre.
Photo credit: Dave Harris
Speech delivered at the 2006 IML contest at the Chicago Theatre, Sunday 28th May 2006.
Good evening. So, the Leather Archives turns 15 years old this year. Reflecting over the last 15 years, a comment made by Joseph Bean comes to mind. In talking about the Leather Archives building in Chicago, he said "When our enemies come, and they will come, they will find little to support their view of our debauchery or our moral bankruptcy, but they will find that most powerful of all antidotes for hatred: The Truth. This will not make them love us, but neither will it give unalloyed fuel to their disgust."
Guess what, our enemies did come. Last fall, some very high profile members of a powerful conservative anti-gay anti-sex organisation visited the Leather Archives. They made no attempt to hide their identity. They showed their identification, used their real last names and even bought books in our museum store. Now far be it from me to call anyone a closeted leatherman, but I can only hope they got off as many times as I did when I read "Soaked! A watersports handbook for men."
They took many photos of our artefacts and our history. At first, I was angry. I felt violated ... kind of like the way you feel when someone has broken into your house. But then, I looked at the Leather History Timeline on display in our exhibit gallery.
Our community has amassed the TRUTH that people have been kinky for over 7,000 years. Our community has documented the TRUTH that thousands have tried to stop us, yet here we are - not one has succeeded. I hope they saw this truth at the LA&M. Now there's no denying that these people are dangerous in the here and now. I echo Matt Foreman's comments from earlier this evening. We need to curb the ripple these people can cause by supporting the National Gay and Lesbian Task Force, the Spanner Trust and similar organisations around the world. But in the grand scheme of things, the TRUTH is there in black and white - there in our historical society, there in our sanctuary, our safe haven, our Leather Archives & Museum. We cannot be stopped.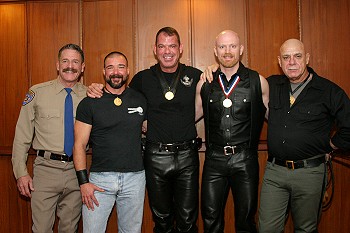 Sunday 28th May - (L to R) David Kloss (IML 1979), Jason Hendrix (IML 2004), Michael Egdes (IML 2005), John Pendal (IML 2003) and Guy Baldwin (IML 1989)
Photo credit: Dave Harris
So who are these people you ask? I won't tell you. Unlike our good friend "dubya" in Washington, I believe and the Leather Archives believes strongly in the right to privacy. Anyone has the right to visit the LA&M in private, including right wing extremists who look at Janet Ryan's fetish photography, take lots of pictures of the Hun's raunchy, and oh my God do I mean raunchy, artwork and buy books in our museum store.
If you're sitting in your chair feeling glad that we have the Leather Archives, I want you to think about the last time you got a thank you letter from us for a financial donation from us. Maybe it was 5 years ago, maybe it was during the capital campaign, but we need your support every year. By donating just $30, once per year, period ... you're doing your part to keep the lights on, keep the doors open, and by all means doing your part to make sure we can sell piss books to closeted pervs. Please ... we know our enemies are coming this year, here in Illinois, around the country and around the world. We need your support to provide the truth about who we are, what we do, where we have been, and most importantly, where we are definitely going. Thank you and goodnight.
(c) Leather Archives & Museum 2006. Reproduced with permission.
---

Have fun, look after yourselves and the people you play with.

Best wishes,
John Pendal
International Mr Leather 2003
---