Life After IML - February 2007
---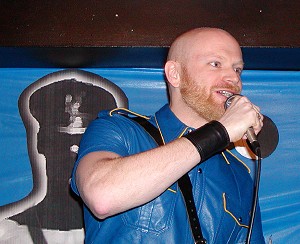 January 26th and 27th 2007 - Hosting the Mr Chicago Leather contest at Touché
Photo credit: Chuck Goes
I spent most of my free time in January preparing my script for the Mr Chicago Leather 2007 contest at Touché. This is the fourth consecutive year that I've been their Master of Ceremonies and it was a hugely enjoyable weekend. There were seven contestants, an international judging panel (including two other IMLs), a sign language interpreter and excellent hospitality. Jorge "JC" Cestou won the title and qualifies for a position at the IML 2007 contest next May.
This year's contest had a "puppy" theme, including a segment where four human pups joined me onstage. They had to howl along to Celine Dion's My Heart Will Go On to prove they were pups (actually, the whole bar howled) and then dressed up as a solider, doctor, fireman and policeman to help me make a point about the different kinds of service people give to the leather community. Despite threats of misbehaviour they were very well trained pups and definitely earned their round of applause from the audience.
One person who has given a great deal of service to the leather community is New York resident John Weis. He's a past president and past chairman of Gay Male S/M Activists, founder of GMSMA's Folsom Street East and a current ex officio member of their board. He has served on the boards of the New York City Gay and Lesbian Anti-Violence Project and the National Coalition for Sexual Freedom Foundation.
John is also the founder and chairman emeritus of the Leather Leadership Conference and served as board member and chairman until 2002. He kindly agreed to be interviewed for this column about the conference, which is in its 11th year.
---
Hi John, what is the Leather Leadership Conference (LLC)?
It's a skills building, leadership development conference for members of the SM, leather and fetish communities.


Who is the conference aimed at?
Anyone who is in a leadership position or has interest in serving in a leadership position. The workshops and seminars cover basic issues as well as advanced ones.


Are the attendees predominantly gay or straight?
It's quite a mix actually, and representative of the broader community. So it's gay and straight (and bisexual and trans-identified), men and women, rural and urban, and people of all colours.

May 2004 - On the 26th IML judging panel with John Weis
Photo credit: Dave Harris


How do you define a "leather leader"?
My goal was to allow that to be self-determined. There's never been a threshold that needed to be surpassed to attend the conference. That said, it's primarily designed for people who are actively involved in the running community-based groups.


Why do you think the conference has lasted over a decade?
Well, I guess we're clearly filling a need. The conference provides needed workshops and seminars. But just as importantly, it provides an amazing opportunity for people to network and connect. We had hundreds of people from some 30 states represented at the last conference, as well as Canada and Western Europe.


How has the conference changed over time?
I think it has strengthened and deepened its commitment to its mission. We've grown - so we are providing more workshops and seminars to more people. We try to stay attuned to the needs of the community and to have that reflected in our programming. I think we do a better job addressing the needs of leaders outside urban areas now. And over the years, we've helped raise the profile and validate the importance of the leather community. To that point, at LLC-X we had a state senator introduce our key note speaker, who was a former chair of the US Commission on Civil Rights. I'm still floored that we were able to pull that off!


Most events return to the same city, and even the same venue, year after year as that reduces the costs and administration necessary to put on the event. However, the LLC moves to a new city every year. How does the event manage that?
There are certainly logistical headaches as the result of starting with a new team and venue each year. But each year a majority of attendees come from within a couple hundred mile radius of the event. To move the event around the country allows that many more people to make an LLC at least every couple of years.


How are responsibilities divided between the national board and the host city?
In basic terms the national board sets policy and guidelines and provides support, while the local host city actually produces the conference.


Have you had any trouble with right-wing or religious protesters trying to derail the event? If so, what's your response?
There were a handful of protestors in New Orleans in 2004. We pretty much ignored them. I think we haven't been much of a target because topics such as "better public speaking" or "writing by-laws 101" tend to be less salacious. That said, we have presented workshops on how to deal with protestors, how to handle hostile interviews, and how to ensure your event is legally compliant.


Saturday 27th January 2007 - Four volunteers from the crowd who joined me on stage during the Mr Chicago Leather contest
Photo credit: Chuck Goes

If someone wants to present at LLC or if a city wants LLC to come to them, what do they need to do?
There are guidelines on the LLC Web site for submitting a proposal for a presentation or to bring LLC to your hometown.


You've also been involved at a high level with many other community projects. How do you strike a balance so that you can do all those things and not burn out?
I wish I knew! I have suffered SERIOUS burn out. What I've learned from that is that if you're not having fun, you REALLY need to look at why you're doing something. And that it's perfectly okay to take a break from activism and community involvement. In fact, it's healthy for both the individual and the organisation. I try to make sure that I set aside 'down' time and make sure that my volunteer work is personally rewarding. (By the way, LLC usually has a workshop geared towards avoiding and/or recovering from burn-out.)


You've worked as a professional fundraiser. If you had to give only one piece of advice to community organisations needing to raise funds, what would it be?
To not think small when asking for financial support for a worthy cause. It's my job to explain why it's important, and important to you, in terms that you will identify with. I would also add that it is REALLY important to look at what costs are involved in raising funds. If 75% of the money is going to pay expenses, you might want to rethink what you're doing.


Finally, if someone wants to come to LLC this year in Minneapolis what should they do?
Book their flight now while airfares are still cheap! You can register for the event at the LLC Web site: www.leatherleadership.org


Thanks, John - see you at the conference in April!
---

Have fun, look after yourselves and the people you play with.

Best wishes,
John Pendal
International Mr Leather 2003
---