Life After IML - March 2007
---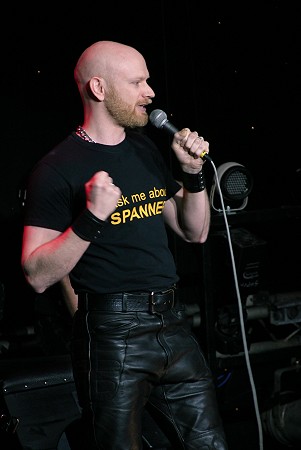 March 4th - Giving a speech on stage at the London Alternative Market
Photo credit: Dave Harris
On Sunday March 4th the London Alternative Market celebrated its first birthday by making the Spanner Trust the nominated "good cause" of the day. Together the event, stallholders and customers raised over £2,000 for the Trust, which is a phenomenal achievement. We are very grateful to everyone present for their generosity. There's a list of businesses which donated raffle prizes and information about the work of the Trust in our latest newsletter - which you can see by clicking here.

Someone I've met many times in my travels is SM educator and sexual freedom activist Glenda Rider. (Once, she even won me for an evening after I was auctioned for charity in New Orleans, but that's another story...) Glenda has served on the boards of the National Coalition for Sexual Freedom and the Leather Leadership Conference, taught classes in SM at more events than she can remember, and recently became the promoter of the International Ms Leather contest, which will be held this year from the 5th to 8th April. She has taken time out of her busy schedule to answer the following questions:
---
Hi Glenda, you're one of the busiest people I know. Why did you want to become the Executive Producer of the International Ms Leather and International Ms Bootblack contests?
The International Ms Leather Contest Weekend has been one of my favourite leather events of the year since 1995, which was the first time I was able to attend. The event has always been a lot of fun and many of my favourite people also go along so it's like a big family reunion every year. I've attended every year for the last 12 years as a volunteer in many different capacities: as a member of the press corps, as an educational presenter, as a contest judge and as an emcee so I suppose becoming the producer was a natural progression.


Will you be making any changes to the contests?
We have completely redesigned the International Ms Bootblack Contest. Contestants will be judged in four categories ("Public Presentation/ Interview", "Heart & Sole", "Technical Knowledge and Skill" and "Popular Vote") instead of the contest being decided by ballots only. The International Ms Leather Contest has retained its traditional format.


This is IMsL's 21st anniversary year. Do you have anything special planned?
We have lots of special activities planned but none that focus on it being the 21st annual contest because there was a big celebration last year for the 20th anniversary.

Our special activities this year include a Lap-Dance-A-Thon, a multi-faith worship service, a celebrity auction for scenes and one-on-one educational classes, a dozen hospitality receptions hosted by local and national organisations and a 'roast' of our outgoing titleholders. This is in addition to the opening ceremonies, the contests, brunch, a silent auction and wind down party.

Glenda Rider - sexual freedom activist, SM educator and contest promoter
Photo credit: Barbara Nitke

Why have you chosen to hold this year's contest in San Francisco?
Our organizing team felt that San Francisco would be a great host city because it has a HUGE leather community and it's such an amazing vacation destination. It's also a place where both queer and straight people feel at ease, so we thought it would be very welcoming to IMsL. And indeed it has been - our volunteer support from the Bay area has been great. Everyone we talk to is excited to 'have an excuse' to go to San Francisco.


You live on the East Coast of America. How can you organise an event over such a great distance?
Email, conference calls and trips to the West Coast. I've been to San Francisco twice in the last nine months. I am also a member of a very energetic leather family which is based in the SF/ Bay area so I have been able to rely on those contacts heavily during this project.

I also have two amazing people to help me manage it all: my boy and associate producer, Levi Halberstadt, and our local producer in San Francisco, Darryl Flick, who has been instrumental in facilitating the organisation of the event. We also could never do it without our wonderful staff of dedicated and talented volunteers.


Do you think men should attend IMsL?
Men are absolutely welcome at IMsL. EVERYONE is welcome and encouraged to attend. It wouldn't be nearly as much fun if our brothers weren't involved. There may be a few folks who feel differently but I really think they are in the minority. We will be holding onsite play spaces this year and we will have both single gender and mixed gender play spaces available so everyone can find the environment they prefer.


You're well-known as an SM educator. Will there be any SM play at IMsL 2007?
We are hosting over 6700 square feet of play space at our host hotel. There will be multiple play areas including a bondage space designed by Midori. The play spaces will be open around the clock from 2pm on Friday afternoon until 1am Sunday night/ Monday morning.


I've been at some SM workshops where is always seems like the women come up with the most evil suggestions that make all the men wince! Has a man ever suggested anything that made you wince?
Every workshop that I attend which is taught by Mark Frazier from Dallas, TX or Mr Dawson from Los Angeles teaches me some evil new techniques or skills!

March 4th - The end of a busy day. Master Cosmic (left) hands over a cheque to Spanner Trustees John and Derek (right)
Photo credit: Dave Harris

You've served on the boards of the National Coalition for Sexual Freedom and the Leather Leadership Conference - do you have any advice for anyone wishing to get more involved in community activism?
It's easy to get involved. Ask around in the community until you find a project which interests you and then volunteer to help. Or do your research on the internet until you come across something that makes you feel like you want to help. Even a few hours a month can make a huge difference. There is so much work to be done before our community can enjoy the same sexual rights as everyone else. In so many places SM sex is the last form of sexuality to remain criminalised and we need to become much better organised if we ever want to overturn those laws. It doesn't matter what your skills are and it doesn't matter how you can help - what matters is that you do SOMETHING to make our world a better place to live.


If someone is thinking of attending IMsL this year, what should they do?
First, they should visit our website www.imsl.org for more information about the specifics of our event. Then they should pack their sexiest clothes, their favourite toys and their "I'm off to have a GREAT holiday" attitude and join us for one of the most exciting BDSM/ leather/ fetish events to hit the circuit in years.


Finally, is there anything you haven't done yet that you'd like to do?
I am really looking forward to doing more extensive travelling outside of the United States. I've only been to Canada, Mexico and a few of the Caribbean Islands so far and there are so many fascinating places that I want to visit. I think my new position as executive producer of International Ms Leather will give me the perfect opportunity to go to Europe in the next few years and then hopefully to Australia. I would also like to visit Asia in the next ten years.


Thanks for the interview. I look forward to seeing you in Europe!
---

Have fun, look after yourselves and the people you play with.

Best wishes,
John Pendal
International Mr Leather 2003
---