Life After IML - December 2007
---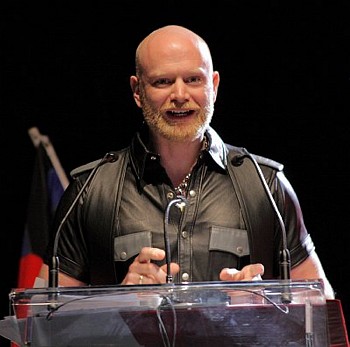 Co-hosting the Mr Leatherman Toronto contest
Photo credit: Dave Harris
Dave and I flew to Toronto in November for the Mr Leatherman Toronto 2008 competition weekend. I co-hosted the contest with Karen "Ultra" Crecelius and taught a couple of classes during two days of educational seminars. This was only my second trip to Canada and it has snowed both times, so I was very happy. (We don't get much snow in London.) The local community was very welcoming and the event was extremely well run, so we're looking forward to returning.
I don't think that 2007 has been a very easy year for anyone campaigning for sexual freedoms or civil liberties. Despite the current political climate there have been some successes. Here are just a few examples of good things that have happened:
---
---

Congratulations to everyone involved in these advances.
I hope you all have a happy holiday and a peaceful New Year.

Best wishes,
John Pendal
International Mr Leather 2003
---