Life After IML - May 2008
---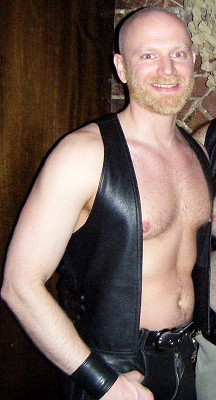 March 2008 in London
Apologies for not posting a new column last month. First our ISP deleted some of their user webspaces, including ours. Two weeks later when the space returned we had to upload this site from scratch - which wasn't easy considering how many times each page has been updated. Then our upstairs neighbours moved out and the telephone provider disconnected our line instead of theirs, so we were offline again!
It's not been a good time for new technology around here.
On Sunday 2nd March I ran a workshop on "escaping from bondage" at the London Alternative Market. They kindly made the Spanner Trust their good cause of the day and raised £553 (over $1000 USD). Thank you to everyone present for your generosity.
SPRING IN THE SOUTH
In April I flew to Atlanta, Georgia, for the first time to attend "Spring in the South" as one of the presenters, organised by Atlanta S/m Solidarity. The men-only club has been running since 1987 and this year was the 20th anniversary year for "Spring in the South", which is an annual weekend of SM education open to everyone regardless of gender or sexuality.
I was very impressed by how well the weekend was run. Thursday night began with an erotic art show. Artists included Ray Castro and Devin Wilson from Jacksonville, amd Peter Scherfig from Berlin. The art show was followed by three days of classes using educators from Atlanta, Chicago, DC, New York, San Francisco (Frank Strona) and London (Puppy Gordon and yours truly), amongst others.
The weather was good, the facility used for the workshops was impressive and 'Southern Hospitality' was in abundance. I'd definitely recommend it to anyone wishing to improve their skills. For more information go to www.atlantasmsolidarity.org
---
WHEN DO CERTAIN KINKY IMAGES BECOME ILLEGAL IN THE UK?

The Criminal Justice and Immigration Bill received Royal Assent on 8th May 2008. Sections 62 to 65 of the Bill make it an offence for someone in the UK to be in possession of "extreme pornography" - making no distinction between real or staged acts, or between those which are consensual versus non-consensual. This law is now on the statute books in the UK. However, it won't come into force until the Secretary of State makes a Commencement Order.

A report on the BBC News website suggests that the law will come into force from January 2009, although I haven't seen confirmation of this elsewhere. There are many other articles in the press, including the BBC News website at http://news.bbc.co.uk/1/hi/magazine/7364475.stm and the New Statesman magazine at http://www.newstatesman.com/200805100003

BACKLASH is a coalition of organisations and individuals who are lobbying against this law. They are working hard to delay the Commencement Order as long as possible, and also make sure that any Crown Prosecution Service guidelines take as liberal view of the law as possible. For more information please visit www.backlash-uk.org.uk









30TH IML WEEKEND

Thursday 22nd to Monday 26th May is the 30th International Mr Leather contest weekend in Chicago, IL. Many thousands of people travel to Chicago for the contest, parties, huge leather market, bear events or just to hang out in the lobbies and corridors of the host hotel (the Hyatt Regency Chicago). If you'd like to know what it was like being a contestant at the 25th IML you can read my diary here. And if you're a contestant at this year's contest you might be interested in three pages of advice I've written here, here and here.

Singer Andy Bell will be the headline act during the contest. The official IML website is at www.imrl.com



IN LOVING MEMORY

Anyone who has competed at IML since 2001 will probably remember one of the volunteer contestant handlers, Steve Johnson. He was a big beefy bear of a man, keen photographer and close friend. He was one of the few people with whom I could share the ups and downs of being an IML, knowing that it would go no further.

Steve passed away in an LA area hospital early on Thursday 1st May 2008.

Steve joined the leather community whilst living in Tulsa, Oklahoma. He was a member of T.U.L.S.A. and won the title Mr. Sooner State Leather 2001. Two years ago he moved to Southern California, where he volunteered as the chair of the Registration Committee for the Los Angeles Leather weekend 2007 and 2008. At IML he has served on the Contestant Handler staff since 2001 and was a member of the IML Security Staff prior to that.

He was part of my leather family and I'll miss him greatly.




May 2005 - Steve Johnson taking photos at IML
Photo by Dave Harris
(click through for larger image)
---

Have fun, look after yourselves and the people you play with.

Best wishes,
John Pendal
International Mr Leather 2003
---