Life After IML - April 2009
---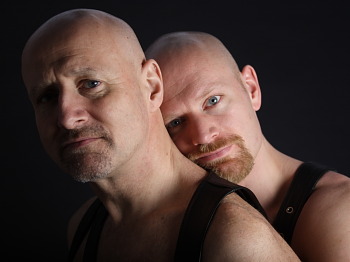 January 2005 - with husband David in London. (The reason our relationship has lasted this long is that we've yet to agree which one of us is 'the boy'!)
Photo credit: Ulli Richter

On Sunday 8th March I attended a Just Rope event in West London. It's a pansexual club for people who want to practise their rope bondage skills, and a proportion of the door fee is donated to the Spanner Trust. Some people are there to learn new skills or experiment in a safe and friendly environment. Other people are there to be tied up - or like me - practise escaping. It's been a while since I was last there so I was pleasantly surprised to get out of an upper body harness in 25 seconds, vertical tie to a frame in 4.5 minutes and a hogtie in 3.5 minutes. My success rate isn't always so high so it was a very pleasant evening.
Collared Relationships - part 2

Last month six people provided quotes for a column on what it means to them to be collared. This month I wanted to examine the other side of that question, and so here are replies from seven people answering the question: "What does it mean to you to collar someone?" I gave no guidelines for the answers and allowed each contributor to take their response in whichever direction they desired.

---
"Having been raised in a very traditional Southern Old Guard leather family, and having twice worn a collar myself, the importance and responsibility of placing a collar on a boy's neck cannot be understated. The parallels between a collar and a wedding ring are apparent. Both represent the commitment between two individuals to share each other's lives. Both symbolize a deep emotional bond between the giver and the wearer. A collar, though, represents far more. When a Sir collars his boy, he becomes responsible for the boy's very life and wellbeing. To honour the intense trust his boy places in him, a Sir must commit to nurture and protect the boy both physically and emotionally. To me, the collar represents a level of trust and intimacy that is unparalleled in its intensity."
Sir Larry, 48, Washington, DC, USA




"To me collaring someone is the most important step I could ever take with a man. A collaring is much more than what many consider a marriage. Collaring is a very serious step and should never be taken lightly or on a whim. I feel that far too many people use 'temporary collaring' and look at collaring as just another form of playing. Collaring is taking responsibility for that person and making them your slave. Having a slave is a huge responsibility. The slave is putting his life in your hands and it should be cherished."
Ms Kendra, Indianapolis, Indiana, USA




"I think I should just answer in regards to the collar I gave to someone: the collar to my lifetime-slavedog. In the beginning it was a training collar for a limited pre-agreed training period but when I offered it permanently it became a gift, a commitment and a promise. The gift of offering a lifetime in my service, and the commitment to take loving care of my slave for the rest of his life. In accepting my collar he gave me the biggest gift a man can make to another: giving himself to me fully, body and soul. By that it also means a power-exchange that grants me the power to make all final decisions in our life together and to guide him and mould him into the slave I want him to be, alongside with making use of him as I see fit for my pleasure - which has become his pleasure and goal in life. In return I make the promise to take care of him to the best of my abilities and help him grow physically and spiritually to his full potential as a slave and human being."
Master Oliver, 36, Germany




"I offer a collar to a boy to symbolize recognition of the ongoing sexual intensity of our interaction in a Master/ boy relationship, an acknowledgment of the emotional affection that pervades and transcends that relationship and that play, a considered willingness to accept this man into my life and my family, and a promise to share, learn and explore past our fears and reluctance. My collar to a boy is a promise to an apprentice, and not a limit on him. It is a talisman rather than a brand. Once accepted, the meaning of a boy's collar is continually discussed as circumstances change, as there is not fantasy-driven 'one-size-fits-all'. The value of a boy's collar derives from both its placement and the family agreement that maintains it."
Tawse, 55, Chantilly, Virginia, USA




A Sir and his boy - Tony Buff and Derek da Silva

"In my community of family and friends, a collar is the symbol of a committed Dominant/ submissive relationship. Whether a scene collar worn only for the duration of a play session or short period, a collar of consideration, or a formal collar of commitment, it is a traditional representation of the nature of the relationship shared by the collared and the one who owns the key. It also serves as a reminder to those of us who recognize and value the respect and responsibility ideally embodied by those relationships. This is especially true for me as it relates to the collar worn by my boy Derek, because it is the collar I wore as a collared boy twenty years ago. It is a powerful talisman that still reminds me of the pledge to integrity, fidelity and service I made two decades ago even now as it is worn by my own boy."
Tony Buff, 38, Seattle, Washington, USA




"To me a collar signifies a willing setting aside of the mechanisms most of us employ in the defence of self, as the wearer is displaying for all (who are 'in the know') to see that they have given themselves over to another, placing themselves voluntarily at another's feet. Such a person is displaying courage, moral fortitude and strength of character in making that choice. In my experience such men and women are stronger, smarter and more morally upright than the average member of the human race; they are certainly not a dog or other simple animal. Yet, in openly wearing a collar the wearer risks that someone will think of them as less than the average human, a dog, or at least broken and unable to stand on their own. Conquering one's ego by openly wearing a collar is laudable; it displays traits that not everyone has; it impresses me."
Conrad, 40, Nevada, USA




"For me collaring someone is when they have reached a state of interaction where wearing a symbol around their neck is not needed. When we have reached the point where all of our interactions are based around the agreed parameters of our relationship as dominate and submissive, at that stage I may choose to show that interaction with a symbol, most likely one that locks in place and shows the value of the relationship to me."
Master Cosmic, London, UK



---

Have fun, look after yourselves and the people you play with.

Best wishes,
John Pendal
International Mr Leather 2003
---