Life After IML - June 2009
---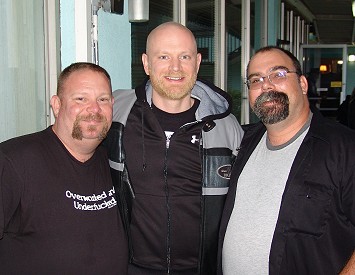 May 2009 - with Daddy R from Tulsa (left) and Sebastian from Texas (right) at Tribal Fire in Oklahoma.
Photo credit: Richie Johnson

It's been a busy couple of months. The highlight was flying to Oklahoma to teach workshops at Tribal Fire from the 1st to 3rd May. I haven't been to this event before, which was in its eighth year, but found it to be very relaxed and welcoming. You can't beat Midwest hospitality! It was also nice to catch up with a sizeable group of leatherfolk from Toronto, who were there to teach puppy-play and take part in the Saturday night gala. Much fun was had by all.

On Sunday 19th April I made a trip to Coventry in the UK to take part in a Rope Bondage Peer Workshop. It was extremely busy and good to see a rope event so well attended. I managed three ties while I was there and escaped from two of them. I know, nobody's perfect, but it was still irritating to see how rapidly our little alcove filled with people as the news spread that there was a rope tie from which I couldn't escape!
SM Education

I'm often asked why I support SM education so strongly. From my own experience I know how drawn I was to the kinky side of life without any education, but how much my enjoyment has increased since I started meeting people who could show me the ropes. I'm also aware of how easy it is to take unintentional risks if you don't know any better. One of the criticisms of SM events that I've heard comes from people who think that SM shouldn't be taught in groups, as that makes it "too structured and prescriptive". To me that's like saying that playing a musical instrument shouldn't be taught, as that makes it too structured! It's true that some people have the innate talent to pick up an instrument and be able to play it very well, but for the rest of us some instruction doesn't hurt.

Another criticism I've heard: "For the true magic of SM to happen, it needs to be passed on in private from individual to individual." I think that's fine if you're one of the lucky ones who manages to live within travelling distance of a talented SM Top who is willing to teach you in private. But even if you do find such a person, how do you know that they aren't taking unintentional risks? Sometimes I'm approached online by individuals who want to do breath-play with me and say that they teach it, but when I ask them basic safety questions they're unable to answer. At least at an event the presenters have been through a selection process. And the more people that are present the more likely someone will speak up if inaccurate information is shared.

All I know is that the more I travel and attend SM events the more I realise just how much I DON'T know - and the more grateful I am to learn from others.

With that in mind here are some SM educational events happening over the next few months. It's not a complete list, but it includes events I've attended, heard about by reputation or which answered my emails requesting further information. If you know of any others please ask them to contact me (SMevents (at) iml2003.com) and I'll gladly include them. Alternatively if you'd like to set up an event and need some help feel free to email me and I'll supply names of willing presenters.
---
June 2009
JUST ROPE
Held in London, United Kingdom
on Saturday 6th June 2009 from 1pm to 5pm
www.justrope.co.uk
"The next Just Rope event will be a workshop with one of our regular international guests Chanta Rose. Tickets will be £20 per person on sale from the London Alternative Market, and via PayPal and various munches after that. The event is being held in south west London (zone 2) and has good links via public transport. On-street parking is available in the area with the option for pay and display within 10 minutes walk. All those attending will be met at a venue a few minutes' walk away from the workshop and once the group has been collected the workshop will commence. All attendees MUST be at the arranged meeting place for 12:45pm to be shown to the venue. Due to the nature of some of the material in the workshop photography will not be permitted and this event is strictly advance and limited tickets only."

If you have any questions please email the organisers: info @ justrope.co.uk

April 2009 - the first of three ties at the
Rope Bondage Peer Workshop in Coventry.
Rigging and photo by www.RopeTop.com
---
July 2009
TES FEST '09
Held in Piscataway, New Jersey, USA
from 2nd to 5th July 2009
www.tesfest.org
"At TES Fest '09 we will have the ENTIRE hotel for the weekend. There will be no shuttle buses to ride, everything all in the same place. We have tons of classes from over 38 presenters. Great vendors and fabulous play-space setup by The Crucible. Come out and relax and play. No stress. Cool people. Who needs the beach when we have a pool all to ourselves?"

FETISH FAIR FLEAMARKET
Held in Boston, Massachusetts, USA
on Saturday 11th July 2009
www.fetishfairfleamarket.com
The Boston "summer flea" will be held on 11th July from noon to 6pm at the Boston Center for the Arts Cyclorama. Admission will be $10 per person. As well as the large vendor market there are five SM workshops/ demos planned.

SO YOU WANT TO BE KINKY?
Held in Toronto, Ontario, Canada
on Sunday 19th July 2009
www.2bkinky.com
Two workshops will run on Sunday afternoon between 2pm and 6pm. Doors open at 1.30pm. Entry is $10 and restricted to people aged 19 or over. More workshops will be run throughout the year, check website for details.

THUNDER IN THE MOUNTAINS
Held in Denver, Colorado, USA
From 17th to 19th July 2009
www.thunderinthemountains.com
Now in its twelth year, Thunder in the Mountains attracts up to 1000 people for a weekend of workshops and play parties. "This year we will have 15 presenters and 30 workshops with the largest dungeon of any other event in the country which includes spaces for men only, women only and pansexual. And despite what you might have heard, as of 19th May there are still rooms available at the host hotel."

(I'll be presenting there for my third consecutive year. It's a really good event with a great atmosphere and very friendly crowd.)
---
August 2009
BLACK BEAT
Held in Maryland, USA
from 13th to 16th August 2009
www.blackbeatinc.org
"Black Beat provides a safe, discreet, and welcome environment for African American expressions of D/s, BDSM and alternative sexuality. 16 presenters will lead workshops on Friday 14th and Saturday 15th August. All genders and sexualities are welcome, with an even balance of men and women attending."

LEATHER CAMP V
Held in Wichita, Kansas, USA
from 14th to 16th August 2009
www.wichitaleatherpride.com
"We're expecting about 75 attendees from all over the midwest. We will have 5 classes on Saturday 15th August as part of a larger schedule of events, including several leather contests."

(I was one of the presenters at Leather Camp in 2006 and had a lot of fun there.)

April 2009 - the same tie, viewed from behind.
(I escaped from this in two and a half minutes.)
Rigging and photo by www.RopeTop.com

FLOATING WORLD
Held in Edison, New Jersey, USA
from 21st to 23rd August 2009
www.thefloatingworld.org
"Floating World is now the largest indoor BDSM/ Fetish event in the USA, this year featuring 106 classes and workshops on a huge variety of interests plus parties and get-togethers put on by a coalition of over 30 local gay, straight, fetish and trans groups from all over the Northeast. This year we expect around 1,200 total attendees for the three day event. There will be 120,000 square feet of total space with 60,000 square feet of professionally built dungeon, plus dance and performance space and classroom/ workshop areas."

GLLA WEEKEND
Held in Indianapolis, Indiana, USA
from 21st to 23rd August 2009
http://greatlakesleather.org
"Great Lakes Leather Alliance is now in its eighth year. There will be about 500 people expected for this event. All leather, kinky, bdsm, fetish, cross-dressers, trans, etc are welcome at GLLA. This all inclusive event welcomes everyone for this year's themed event of Film Noir. There will be workshops, contests, poolside cookout, theater, on-site dungeon and Sunday keynote leather brunch."

OTTAWA LEATHER FEST 5
Held in Ottawa, Ontario, Canada
from 28th to 30th August 2009
www.olympusleather.com/regional/cco/cco.htm
"Ottawa Leather Fest includes a Kinky Cabaret, two play parties, and a selection of SM workshops. It all wraps up on Sunday, August 30th, with Ottawa's annual Pride parade. Weekend packages will be $70 and tickets are also available for some single events."
---

Have fun, look after yourselves and the people you play with.

Best wishes,
John Pendal
International Mr Leather 2003
---