Life After IML - August 2009
---

I know it's been two months since my last column. What can I say? I've been busy with work, had two course of antibiotics for a sinus infection brought on by hayfever, my husband and I both celebrated birthdays (his ended in a zero this year), and I've been away to America twice for leather events. But I have created a new page listing some of the workshops and seminars I offer - so if you need a presenter for a kink event please feel free to take a look.
On 21st May I flew to Chicago for the International Mr Leather contest weekend. Jeffrey Payne from Texas is the 31st International Mr Leather, (his email is IMrL2009 (at) gmail.com and website http://iml2009.com) and McG from Toronto, Canada is the 17th International Mr Bootblack. Best wishes to both of them on their travels.
On Saturday 4th July Dave and I took part in the London gay pride parade. The weather was good and each year there seem to be more and more members of the emergency services and armed forces marching in uniform to wild applause from the crowds lining the route. In 2012 London will be hosting WorldPride as well as the Olympics Games, so book your hotel now!
From 17th to 20th July I was in Denver for my third time as a presenter at "Thunder in the Mountains". I really like this event. It's well-organised and very friendly with lots of good feeling from everyone there. I thoroughly recommend it.
---
BAREBACK PORN (sex without condoms)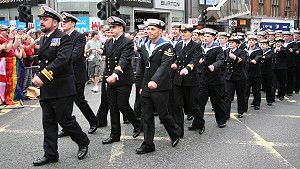 July 2009 - some of the uniformed personnel marching in the London gay pride parade
Photo credit: Dave Harris
A couple of weeks ago Chuck Renslow announced that "the Executive Committee of International Mr Leather has decided that it will no longer allow participation in the IML Leather Market by any entity which promotes barebacking or distributes/ sells any merchandise tending to promote or advocate barebacking. This restriction will also apply to distribution of gifts, post cards or any other information via our facilities. This policy takes effect immediately." This has led to a lot of debate about censorship of the community.
A few people have asked me to comment on this situation directly. I've written about barebacking before, in a column in January 2004, but due to the reaction to the IML press release I think there's something more to be said:
LET'S STOP USING THE PHRASE "REAL MEN"
Whether that's bareback porn companies saying "if you want to see real men have real sex you'll buy this product" or safer sex campaigners saying "real men use condoms". I spent most of my school days being bullied by the other children because I didn't live up to their expectations of masculinity, I don't need to have my gender or sexuality questioned by members of my own community now.




AVOID EMOTIVE LANGUAGE
If your argument is sound it can be won in a rational way without whipping up a crowd into a frenzy. I have difficulty listening to speeches that manipulate the majority of the audience into a standing ovation without caring that a minority are left sitting down feeling disenfranchised and angry. (See here for more details.) One of the signs of a cult is that the membership is culled regularly to inspire greater loyalty in the members who remain. We shouldn't be using any of those tactics to inspire loyalty from our own community.




July 2009 - after the parade, enjoying the good weather with Dave in central London

FIND COMMON GROUND
At times the arguments for barebacking and safer sex have become so polarised it's as if two people are shouting at each other from either side of a tall fence. I don't believe there are absolute answers where one side is always right and the other side is always wrong. For example, personally I'd have no problem with two monogamous people having sex without condoms if they were both HIV negative, or if they were both HIV positive and on medication with low viral loads. However, I do have a problem with sex without condoms if people are doing it for reasons of low self esteem or are unaware of the health risks involved. Retreating to extreme positions on either side of the argument will not move the debate forward.




BE CONSISTENT
I am prepared to listen to anyone with an articulate, well-reasoned opinion, as long as they are consistent in their approach. I have a problem when someone's actions don't match their words, for example when titleholders are raising money for local HIV support services using barebacking DVDs in their auction baskets. I think that's sending out a mixed message.




BEWARE TABOOS
If we demonise bareback porn we risk making it a taboo subject, and in our community we tend to be drawn towards things we aren't supposed to do. If our efforts are concentrated on removing bareback porn from view then we're only suppressing information. We need to promote an open atmosphere where people can get tested for HIV and discuss their sexual practices without feeling judged by a community which should be there to support them.

Above all, let's treat each other with respect. We talk a great deal about 'honouring diversity' in the leather community, but that also means listening to someone when they have a different opinion to our own.
---

Have fun, look after yourselves and the people you play with.

Best wishes,
John Pendal
International Mr Leather 2003
---