Being IML - January 2004
---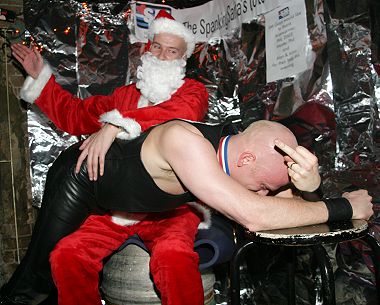 Spanked by Santa at the SM Gays Christmas Party, December 2003. The things I do to raise money for the Spanner Trust!
Photo credit: Dave Harris
Happy New Year to you all!

Looking back over the last six months of travelling a couple of things stand out. The first is how prevalent HIV and AIDS still are in our communities, and how leatherfolk are raising money for AIDS services in every city I visit. The second is how open we are about fucking without condoms (also known as "barebacking"). The same bars which stock sex education material in the entrance lobby are playing barebacking videos inside the bars, some sex shops ONLY stock barebacking videos, I've seen barebacking videos in contestant auction baskets and people proudly proclaim in their internet profiles that they are only looking for bareback sex.
What's going on? Someone who joins the leather community now could be forgiven for thinking that bareback sex is the norm. One of the bareback leather-porn videos said on the back "If you want to see REAL men have REAL sex then you'll buy this video!" At times I feel like I'm in the minority, by insisting that I would only fuck with a condom (also known as "safer sex").

There are as many reasons why people bareback as there are people who have sex. I've referred to this subject in earlier columns but let's be explicit. Here are just a few of the reasons:
I was in a darkroom and couldn't see what was happening
He told me he was wearing a condom but by the end of the session it had come off
I asked for a condom but he insisted we didn't need one
I'm tired of safer sex messages - I'm going to do it because you keep telling me not to!
I find barebacking is empowering: HIV doesn't control my life
We have an open relationship, we bareback with each other but it's always safe with other people
I only have sex with people who look healthy
I expect the other guy to tell me if he's HIV+
It's everyone's responsibility to protect themselves: if he doesn't ask me to use a condom I'm going to assume he's HIV+/ HIV- like me
Barebacking is more intimate, "raw and pure"
I don't like condoms/ they don't fit/ I'm allergic to latex/ they cut down sensitivity
I can't keep an erection inside a condom
I find it sexy to take risks - it's a turn on
I'm probably HIV+ anyway/ it's inevitable to catch HIV so I might as well go ahead
I don't let guys cum inside me
I've never taken an HIV test and try not to think about it
I don't have the self-confidence to insist on what I want
He was really hot but he wouldn't have sex with me if I used a condom/ asked him to wear one
I didn't know that you can get HIV from barebacking
It was "the heat of the moment"/ we were hot and horny and my dick took over
I want to be HIV+ : you get combination therapy and free steroids
I was trashed on drink/ drugs and had no idea what I was doing
We're both HIV negative/ both HIV positive
We couldn't find any condoms and gave up looking
I have good intentions to stick to safer sex but it's not always possible
As a titleholder what's my response to this?
First of all I'm glad that barebacking is out of the closet. It's very difficult to discuss a taboo subject. If the safer sex message is failing we need to find out why by talking about the subject honestly, openly and without judgement. Although there was a lot more pressure ten years ago to practise sex only with condoms, there were also a lot of guys keeping "guilty secrets" that they'd had unsafe sex. It stopped them from going for an HIV test or getting any support from the community.
Secondly I'm against the message that "we must all use condoms all the time". For a start we've seen that that message doesn't work, in the same way that "just say no to drugs" doesn't work. People have reasons for doing what they do, and unless you're willing to engage in debate you can't expect anyone to listen to you. I prefer to promote the messages "Informed Consent" or "Risk Aware Consensual Kink (RACK)", which encourage people to know their HIV status, know the risks of what they're doing and then make informed choices about what they want to do.
Thirdly, I know that as a titleholder I have very little influence on the community (thank goodness). Anyone who has been around for long enough to work out their status or make an informed decision to bareback is not going to care what I think or say. If I'm a role model to anyone it's probably going to be for individuals who are new to the leather scene, who perhaps don't know the facts about HIV transmission or who don't have the self confidence to negotiate the kind of sex they want. For that reason I'm uncomfortable when I see other titleholders engaging in barebacking in public or putting barebacking videos in their auction baskets. I think we have a responsibility to the new members of our community to set an example, to tell them that HIV currently has no cure, that fucking without condoms is still the most likely route of HIV transmission in our community, that sex with condoms can be fun/ hot/ horny, and that there is a lot of bondage and SM you can get up to without condoms that has no risk of HIV transmission at all.
Whatever you get up to in the next year, look after yourselves and the people you play with.
Yours in leather,
John Pendal
International Mr Leather 2003
---