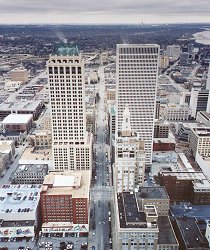 Wednesday March 3rd - Flew to Tulsa. I've been looking forward to returning to the Midwest ever since my trip to Kansas City last September.

Thursday March 4th - Managed to get to a gym during the day. In the evening attended a meet & greet at Club Maverick, where one of the owners was paddled in honour of his birthday.

Friday March 5th - Taken up to the 51st floor of downtown office block to see the view of Tulsa (above).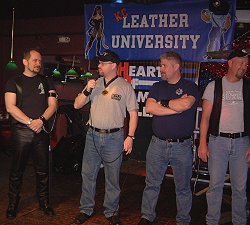 Photo credit: Richie Johnson


Friday March 5th @ 6pm - Attended a welcome dinner for Tammie Nelson (IMsL 2003), who had arrived on crutches and the airline had lost her luggage! Later in the evening we went to the Bamboo Lounge for another meet & greet where I met many friends from Kansas City.

Saturday March 6th - Woken up very early to start my judging duties for the Tulsa Mr Leather contest. Contestant interviews lasted from 9:30am to 12 noon. I think it was at this point I decided I'd rather be an emcee at future contests so that I don't have to get up so early! Saturday afternoon was spent at the Tool Box where members of Kansas City Leather University led four classes in different aspects of SM (above).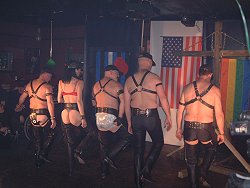 Photo credit: Richie Johnson
Saturday March 6th @ 10pm - Returned to the Tool Box for the Tulsa Mr Leather contest. The contest was emceed by Chuck "fatboy" Brackett and entertainment included a couple of routines from the Sooner State Cloggers (see above) - who were a big hit with the crowd.
Sunday March 7th @ 11am - 55 leatherfolk took over the Metro Diner for goodbye brunch and photos. In the afternoon I joined the Tulsa Leather Uniform Seekers Association (T.U.L.S.A.) for a club meeting, which included members of the Wichita Organization of Leather Fetishes (W.O.O.L.F.) and the Mid-American boys of Fetish. I had a say my goodbyes and leave early though, to catch my flights home. But I'm sure I'll be back.