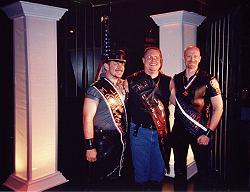 Wednesday 17th to Monday 22nd September - Kansas City, Missouri, where they were holding the Heart of America Leatherboy 2004 and the Mr Dixie Belle Leather 2004 contests.

I seriously underestimated this booking. For some reason I thought it would be a small event before the big leather week in San Francisco. How wrong I was. Kansas City rocks! They have two active leather clubs: the KC Pioneers and the KC boys of Leather, plus the Kansas City Leather University (KCLU) which tours around the Midwest teaching BDSM, a free Hepatitis A & B vaccination outreach scheme taking place in the bars and clubs, and the first LGBT community health assessment project in Kansas City called THE PULSE.

(Above L to R) Zack Marquardt (Mr Dixie Bell 2003), Todd Altheiser (Mr Dixie Bell 2004) and me.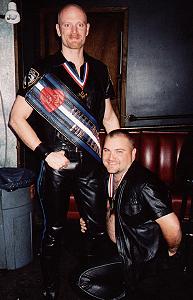 For the Mr Dixie Bell Leather contest I was on the judging panel of 8 titleholders, including Tammie Nelson "IMsL 2003", Bill Mitchell "American Leatherman 2003" (pictured above) and Mark Bozif "Mr Missouri Leather 2003". Thanks to one contestant's interview answers, three of us acquired the nicknames "Top shelf", "Middle shelf" and "Bottom shelf". I'll let you work out from the picture who was "Top Shelf"...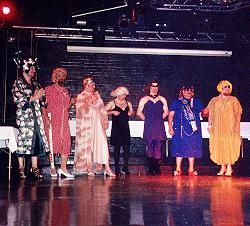 The Mr Dixie Belle Leather contest was held on Friday and Saturday at the Dixie Bell Warehouse. On the Sunday morning the weekend concluded with a drag show put on by the contest organisers to raise money for the two new titleholders' travel funds (see above).
Of course, I only remember this weekend in brief flashbacks, as thanks to their "five second pour" when serving vodka in bars I managed to discover what it's like to be very, very drunk (after all my official duties were over, of course). If you need any dirt on me for my step down you need look no further than my antics in Kansas City ... I can't wait to return!