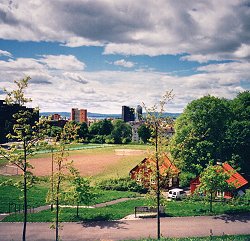 The city of Oslo
Thursday May 13th - Flew to a very high-tech airport in Oslo for the "Valhall" leather weekend organised by SLM Oslo. [Note: alcohol is very expensive in Norway so it's a good idea to bring some for your host.] Spent first evening at the London pub meeting members of the SLM Oslo committee.
Friday May 14th - Interviewed over lunch for a local gay paper. Gym in the afternoon and then a sauna party in the evening at My Friend Club, which was booked exclusively for people on the leather weekend.
In front of the Royal Palace
Photo credit: Øivind Aamodt
Saturday May 15th - Sightseeing during the day. Visited the University's botanical gardens, the Edward Munch museum and the Royal Palace. Late afternoon spent a couple of hours with Svein Skeid and Reidar Kjær from the Revise F65 project discussing the different attitudes to SM around the world.
In the evening watched the 49th annual Eurovision Song Contest with my host for the week, Øivind; then on to the SLM clubhouse for the main "Valhall" party until 3:30am.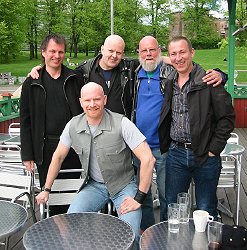 With four members of the Revise F65 project
Photo credit: Øivind Aamodt
Sunday May 16th - A pleasant afternoon drinking coffee in the sunshine with the rest of the Revise F65 project members. In the evening returned to the clubhouse for another party. Gave a speech and we held a raffle to raise money for Revise F65.
Monday May 17th - Norwegian Constitution Day. I'd been looking forward to these celebrations all week. Unfortunately I slept from 2am to 5pm (yes, 15 hours) and missed the day completely! In the evening I joined Øivind and some of his friends for a boat ride along a fjord. This has to be the most beautiful place I've visited all year.