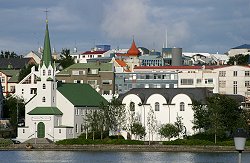 Thursday August 7th - Dave and I flew to Iceland for an ECMC summit organised by MSC Iceland. It was weird watching the sun set at Heathrow at 20:30 and then come back up as we flew north west. We landed at 23:10 and were promptly driven to Reykjavik, 40 minutes away. After a quick change at the home of our wonderful hosts, Kristinn and Ragnar, we went up to the MSC clubhouse. The party was in full swing when we arrived, but after a couple of Icelandic vodkas we soon caught up.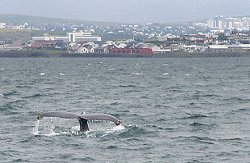 Friday August 8th - This was the first leather event I've been to where whale watching was included as part of the programme. We went out to sea in the afternoon and saw Minke and humpback whales. One whale surfaced right alongside the boat but the leathermen were too busy screaming to take any pictures. In the evening we went to the premiere of "Ain't Misbehaving" - the first English-language "musical" to be put on in Reykjavik. It was a huge hit. Afterwards went back to the MSC clubhouse until 03:00. They certainly know how to party in Iceland.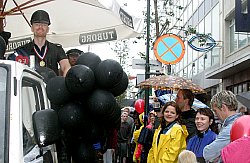 Saturday August 9th - Reykjavik's fifth gay pride. It hasn't rained here before on gay pride day, but today the heavens opened and it POURED with rain. Ragnar erected a giant garden umbrella in the back of the MSC Iceland lorry so that we wouldn't get too wet during the parade - but it was such a shame after everyone had put so much work into the event. The bad weather didn't seem to dull the enthusiasm of the crowds or participants. We changed into dry clothes before seeing the end of the gay pride concert in the main town square. In the evening the MSC club put up plastic sheeting over their courtyard so that a fish barbecue could go ahead.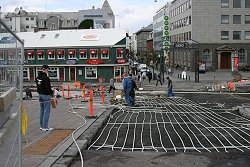 If you're planning to go to Iceland here's some local information:
• They drive on the right.
• The currency is the Icelandic Króna
• Electricity is 240V via a 2 pin socket
• Icelandic people are incredibly friendly and hospitable, which is good news, because it's also quite expensive. (UK£5 for a bottle of beer, UK£6 for a pint or UK£10 for a shot of schnapps)
• 85% of the country is powered by geothermal energy. As a result they have more hot water than they know what to do with - they even run it under roads to melt winter ice (see above) and pump it out to sea at an artificial beach!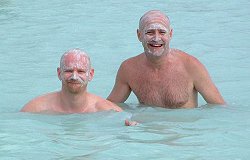 Photo credit: Bob Freese


Sunday August 10th - Slept all morning. In the afternoon MSC Iceland provided a trip to the Blue Lagoon, an outdoor lake filled with hot, geothermally heated water. You can swim in the lagoon, cover your face in white silica mud or have your back pummelled by a high-pressure waterfall. It's supposed to have health-giving properies - perhaps it explains why the Icelanders are so long-lived. Afterwards we were taken for a meal at Reykjavik's gay and lesbian centre, which houses a well-stocked LGBT library. In the evening we went back to the MSC clubhouse for their farewell party.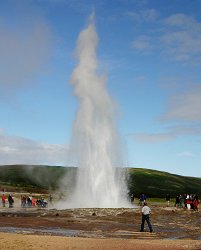 Monday and Tuesday August 11/12th - Dave and I spent a couple of days sightseeing, including the "Golden Circle" tour. This is an 8-hr coach trip taking in a magnificent waterfall, volcanic craters, hot springs, the original Viking seat of parliament and geysers which fire boiling water into the air. This is a stunning country and we'd recommend it to anyone, but contact the friendly MSC Iceland club before you go.