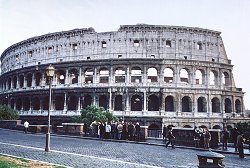 Thursday December 4th - Flew to Rome: my first trip to Italy. Think they have the best food, coffee and architecture but the WORST driving I've EVER seen! (And yes, I've been to Paris.) It's worth keeping your eyes open when they drive, though, because you never know when they'll turn a corner and say: "...and there's the Coliseum!" (above).
Friday December 5th - Met the Leather Club Roma at the Sphinx leather bar.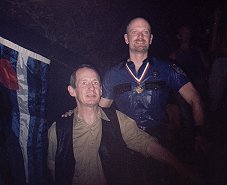 Saturday December 6th - Walked around the centre of Rome during the day and saw some of the more famous buildings, churches, steps and fountains. In the evening I attended Catacombs leather event at the Frequency club.

Pictured: Giving my speech at Catacombs on the theme of "working together", translated superbly into Italian by Peter from Liverpool. (left, above)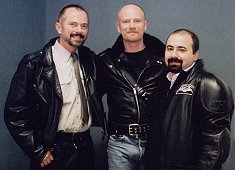 Sunday December 7th - Leather brunch at Rome's Lesbian and Gay Centre, along with members of Leather Club Roma (LCR), Lello (Mr Leather Italia) and Daniel Dumont (from MSC Belgium). Professional caterers, fabulous food and VERY strong coffee!
Pictured (above) with me: Alfred Mayer and Vincenzo who are members of LCR.