Life After IML - June 2005
---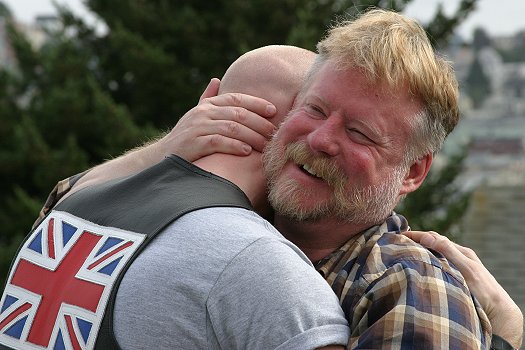 Getting a big hug from Robert Davolt, Sept 2003
Photo credit: Dave Harris
Two big events affected my life in May. The first was the death of a close friend, Robert Davolt, only a few weeks after he was diagnosed with terminal cancer. The second was the 27th annual International Mr Leather contest weekend, which included a memorial service for Robert. I was honoured to be asked to speak at the service, and this is what I said:
I feel a bit of a fraud standing here, as I've only known Robert personally for the last two years. I'd read his columns on Leatherpage.com as part of my preparation for IML, but it wasn't until the press conference the day after I won when we met for the first time. He asked a difficult question, which I don't think I answered very well, but since then we became best friends.

My partner, Dave, and I had dinner at Robert and Joe's house in San Francisco in September 2003 and we were able to return the favour when Robert and Joe visited London the following year. I've also spent the last year persuading as many kink-friendly bookshops in London as possible to stock Robert's book, Painfully Obvious, which is a great antidote for anyone that takes the other leather handbooks too seriously!

I heard about Robert's illness at the beginning of May, before it became public knowledge, when a Fed Ex parcel arrived at work containing one of Robert's possessions and a goodbye letter. I phoned immediately to find out what was going on. We chatted a few more times to Robert and Joe but the end came much quicker than expected.

I'll remember Robert for three things, aside from being very handsome and giving great hugs:



Hugging Robert in the IML vendor market, May 2004
Photo credit: Dave Harris


First - he had lots of opinions and wasn't afraid to share them! We debated several of my columns for Leatherpage by email, often concluding by having to agree to disagree. But the disagreements made our friendship stronger. Robert often expressed regret that in American culture there can be a huge pressure for everyone to "get along", which can stifle debate. He longed for people to be able to express differences of opinion without it turning personal.

Second - he had high standards and was keen to encourage them in others, especially titleholders, event organisers and historians. Just because you won a leather title didn't mean that your IQ automatically went up by 15 points. Just because the event went ahead successfully without any real plan or organisation did not mean that you should use that as a strategy every year! And it wasn't enough to send a magazine or interview to the Leather Archives and Museum and call that recording history. Unless you put it in context with the story BEHIND the story, such as recording the magazine's advertisers or editorial bias, you were only doing half the job.

Third - he knew his faults and openly admitted them in his writing. And Robert was a prolific writer. Let's be candid: he was responsible for about 40% of the postings to the Yahoo Leather Titleholders newsgroup. It was a rare day that the postings didn't go: someone else - Robert - someone else - Robert - someone else - someone else - Robert - Robert ... Admitting his faults openly made Robert very special, as the worst prejudice a writer can have is one that you won't admit to.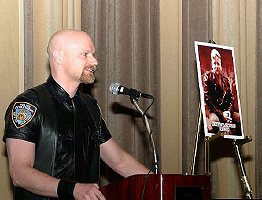 Speaking at Robert's memorial service, May 2005
Photo credit: Dave Harris

So if Robert's opinions and HUGE volume of postings online annoyed you, relax, he's not around to challenge you any longer.
But if you thought his presence was a good thing, whether you agreed with him or not, please support the Leather Archives and Museum any way that you can, and the next time you buy a drink remember to tip your bartender.
In Loving Memory
ROBERT DAVOLT
27th June 1958 - 16th May 2005
John Pendal
International Mr Leather 2003


(P.S. Click here to read Michael Egdes' winning speech from this year's IML contest.)
---