Life After IML - October 2006
---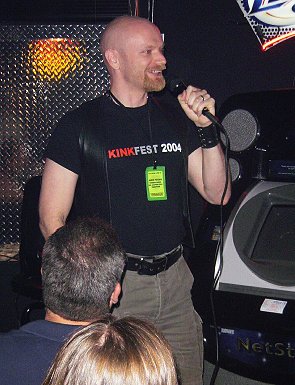 Thurs 17th August - Introducing myself to the crowd at The Other Side bar, Wichita.
Photo credit: boy jess

Apologies that this column hasn't been updated for a while. In August I flew to Wichita for Leather Camp, which was a fun weekend and very well organised. Unfortunately it was held just one week after a terrorist alert which meant you couldn't take food or drink on planes and hand luggage was restricted to a bare minimum. I ended up being re-routed via Memphis and arrived at the event without any luggage at all! Despite that I had a wonderful time and would definitely like to return.
In September Dave and I moved back home, which had been rebuilt during the summer (click here for a photo mid-project). We've been unpacking boxes ever since but it's good to be home.
I've also been attending events for the Spanner Trust and Backlash, which is campaigning against the UK Government's plans to "criminalise possession of extreme pornography". Plus I've been continuing escapology. The only problem is that the people who tie me up are getting better at it - so sometimes I can't get out and then it's pretty humiliating.
I'm always on the lookout for projects and organisations which are increasing the number of people participating in the leather community. One of these is the Chicago Leather Kennel Club, so I spoke to member Doug O'Keeffe, to find out more:
Hi Doug, what is the Chicago Leather Kennel Club?
The Chicago Leather Kennel Club (CLKC) is a social, mentoring, and leather contestant grooming group. The name is a misnomer, and is often misconstrued! The CLKC is not a "puppy play" organisation.


How did the Kennel Club begin?
The CLKC was founded in 2004 by Chicago leathermen Thom Dombkowski and Chuck Windemuth. The long dormant Mr Chicago Leather contest was being resurrected at Touché bar that spring, and the local leather leaders felt the need for a proper grooming team to prepare the winning contestant for IML. In addition to Thom, Chuck engaged the services of leathermen Dean Ogren (ABW Leatherman 2000), Adrian Williams (Mr Cell Block 2003), and others in the community.

The initial focal point of CLKC was to provide contestant preparation to Joee Arteaga, Mr Chicago Leather 2004. Chuck Windemuth assumed responsibility for most group logistics. He prepared binders of information relevant for IML, such as judge biographies, and coordinated mock judging interviews. Thom Dombkowski's expertise in judging proved invaluable. In addition to judging advice and consultation, CLKC members offered advice in outfit coordination, body language and general appearance, and speech technique. Today the group has evolved to provide mentoring to leathermen new to the community.


Sat 19th August - Chatting to Stallion (International Leatherboy 2005) in Wichita. Whatever I was talking about, it was "this tall"!
Photo credit: boy jess

How did you join the Kennel Club?
The CLKC means far more to me than I can adequately describe. The original members of CLKC initially only envisioned themselves a grooming team for the 2004 Mr Chicago Leather. Yet my home bar, the Chicago Cell Block, closed just days before the 2004 Chicago Leatherman contest. The original CLKC members immediately adopted me into their organisation without cost or logistical consideration. They saw a leather brother in trouble, they stepped in to help, and by example they taught me the essence of what being a leatherman means to me: do for others, display commendable integrity, take care of those in need. Above all else CLKC members are leather mentors. In my opinion mentoring is the key to long-term succession in the leather community. I am the leatherman I am today thanks to the original CLKC members. My gratitude knows no bounds.


What sort of services do you offer?
Assuming a public role can be daunting, indeed overwhelming. CLKC seeks to provide the foundation necessary to manage life in the public eye, as well as assist title holders in honing their public relations skills. Through CLKC novice titleholders find the guidance and mentoring necessary to make the most of their title year.


There's a perception that many leather contests in America are struggling to attract contestants. Why do you think that is?
Participation in leather contests in some locations has recently waned. People entering the community bring with them different priorities, demographic shifts have caused declines in community involvement, and the internet has revolutionised the gay community as a whole. Fewer people feel the need to participate in community activities. Contestant mentoring, and good contest promotion, is increasing contest participation in Chicago.


Do you only cover the Chicago area?
The CLKC embraces any contestant seeking its services. Recently the group has worked with contestants from Wisconsin, Michigan, and Missouri among others. With planning CLKC members can travel to contestants outside Chicago, or to send contestants mentoring materials. All interested leather community members are welcome to attend our club meetings, held in Chicago on the second Tuesday of each month.


Some people would say that leather titleholders have a very poor image. What can be done to change that perception?
The allegation by some members of the community that leather titleholders aren't "real leathermen" lacks supportive merit. While some titleholders repetitively seek titles, they don't represent the actions of the majority of titleholders.

Few people have the strength and dedication of character to assume a public role. Those who do often face challenges and criticisms of their public persona. Only a very strong person can counter character attacks. Public life unfortunately attracts controversy, criticism is easy. Titleholders preside over a rich and diverse community. A single representative can not appease every community demand.


My personal experience is that although rewarding, being a titleholder is extremely hard work. Why should anyone want to put themselves through that?
Titleholders work hard, experience criticism and strained relationships, and often absorb considerable personal expenses. Only strong, secure people successfully counter such obstacles. My personal experience as a titleholder was overwhelmingly positive. My title year was a year of personal growth, discovery, and challenge. I'm a better person for it. I hope new titleholders will seek out similar experiences for themselves.


How are you funded?
The CLKC is currently funded by founding member Chuck Windemuth. The continued growth and success of the group will soon mean that we'll need financial support from the membership. Contributions to the CLKC are always welcome!


How can people contact the Club?
For more information please visit our website www.leatherkennel.com or send an email to info (at) leatherkennel.org



---

Have fun, look after yourselves and the people you play with.

Best wishes,
John Pendal
International Mr Leather 2003
---