Life After IML - December 2006
---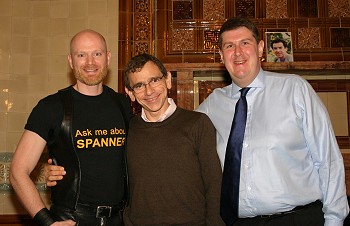 Nov 26th 2006 - With Dr Dean Gabb (centre) and Dr Tim Evans (right) of the Libertarian Alliance.
Photo credit: Dave Harris

On November 26th I gave a presentation about sexual freedom issues at the annual conference of the Libertarian Alliance. They have kindly added my 90 minute talk to their website as a sound file. If you want to listen the file can be downloaded from here (I start speaking about three minutes in).
We're now in the run-up to Christmas holidays and New Year sales, when thoughts turn to present buying. This column has some gift ideas in case you need inspiration.
If you know anyone who would like a desk calendar of B&W fetish images you might want to take a look at the 2007 Backlash calendar. Backlash is a coalition of groups and individuals campaigning against the UK government's plans to 'criminalise possession of extreme pornography'. I took part in the photoshoot back in September and have the honour of being "Mr August"! You can order copies online from www.raven-imaging.co.uk/backlash
---
Sometimes the array of fetish literature for sale can be overwhelming. Here are five suggestions of books which will stand up to being in your library. They are ones I go back to for inspiration and education. The authors have written other books which are just as good, but these are my favourites:
THE LEATHERMAN'S HANDBOOK by Larry Townsend
Published by Masquerade Books, Inc. First printed in 1972 and reprinted countless times.
It doesn't matter it you have a battered first edition, seventh edition or silver jubilee edition, this one of the most popular books for any gay leatherman to own. Considered by some to be the "leather bible" - this was a groundbreaking publication in 1972 and is still a must-read in 2006. Just don't take it as gospel truth - one of the best things about being kinky is celebrating the fact we're all so different!




TIES THAT BIND by Guy Baldwin
Published by Daedalus Publishing Company in 1993
This is one of the most thought provoking collections of commentaries and essays I've ever read. Guy has gathered together his thoughts on a wide range of issues, from making SM work within relationships, ideas about consent, social drugs, through to 'SM and child abuse'. This is an excellent book for people interested in the psychology of SM, or who want to know if there's more to our community than bars and leather contests.




LEATHERSEX Q&A. Questions About Leathersex and the Leather Lifestyles Answered by Joseph W. Bean
Published by Daedalus Publishing Company in 1996
If you ever wished there was an advice columnist who would answer all your questions about kink and SM no matter how embarrassing, then this book is for you. Questions range from "I enjoy being a dog. Is it okay to eat dog food?" to "can I get athlete's foot from sucking toes?" Perhaps I'm just curious, but just reading the questions he covers makes me want to know the answers! Joseph is a prolific writer and his other books are well worth checking out.

Happy Christmas from Dave and John




PAINFULLY OBVIOUS. An Irreverent & Unauthorised Manual for Leather/ SM by Robert Davolt
Published by Daedalus Publishing Company in 2003
I was once told on a scriptwriting course that "the worst prejudice a character can have is one that they won't admit to having". Fortunately, Robert Davolt freely admits his prejudices in this book. He calls himself "an equal-opportunity curmudgeon", whilst spearing many of the sacred cows in the leather community. This isn't the book that will tell you there's only one right and proper way to be a leatherman, but it will give you the courage and ammunition to respond to those who do. Includes advice for leather contestants and contest promoters, people running a "gay" business or community organisation, and "20 things never to say into a live microphone". Sadly, Robert died in 2005 but this book is a fitting reminder of his wisdom and honesty.




The Toybag Guide to DUNGEON EMERGENCIES AND SUPPLIES by Jay Wiseman
Published by Greenery Press in 2004
This little pocket book is crammed full of useful information every experienced SM player should know. It covers a diverse range of scenarios, from jammed knots and 'hot cream overdose' through to more worrying cases such as condom failure or 'police at the door'. The most important lesson is in the introduction: During major emergencies, there will probably not be time to refer to this book ... For those situations, you must already be trained, equipped and mentally prepared to respond. (If you are an SM novice you might prefer one of Jay Wiseman's other books SM 101: A Realistic Introduction.)
---
If you're visiting London all these books can be bought at Coffee, Cake and Kink in Covent Garden, which is also a wonderful environment in which to drink coffee and relax.
The Leather Archives and Museum in Chicago has an online giftshop at www.leatherarchives.org/giftshop/ and you can also browse their sale on eBay by clicking here. If you need other ideas for Christmas presents (or things you can exchange them for in January) check out my Leather Links page for some recommended fetish businesses.

I hope you have a wonderful holiday season and a happy and healthy 2007.

Best wishes,
John Pendal
International Mr Leather 2003
---