Writing Page
---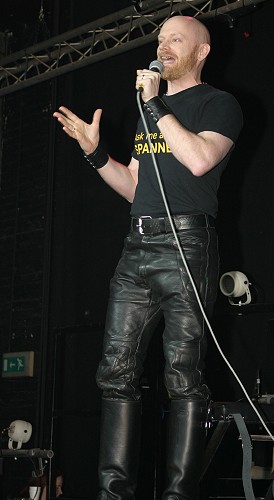 Photo credit: Dave Harris

I've been writing as a hobby since the age of 8. I sold my first short scripts at 18, worked for a touring theatre company for 8 years and reached the final of NBC's Employee writing competition in 1997 (yes, that NBC - the American TV network which broadcast "Friends" and "ER").

IN PRINT
I've had articles published a variety of magazines, including EURO BEAR (vol 4 no 22), INSTIGATOR (issues 10 and 12), MACH 21 (issue 1) and TUG (issue 007). There are also in-depth interviews in FORUM (vol 41 no 9 & vol 41 no 10), and the LESBIAN AND GAY PSYCHOILOGY REVIEW (vol 6 no 3).

ONLINE
"HARNESS" COLUMNS FOR BEEFYBOYZ - In July 2003 I was invited to join the contributors writing columns for the magazine section of the www.beefyboyz.com and they've been archived here:
CLOSING KEYNOTE SPEECH FOR THE 11TH LEATHER LEADERSHIP CONFERENCE - A transcript of the speech as delivered on Sunday 22nd April 2007 in Minneapolis, Minnesota.

INTERVIEW FOR 'STAYING NEGATIVE' CAMPAIGN in Melbourne, Australia. May 2015

INTERVIEW FOR THE LONDON FETISH SCENE WEBSITE about the Spanner Trust. January 2006 (pdf file)

STEP-DOWN SPEECH FOR THE 26TH IML CONTEST - A year after winning the contest I returned to IML for my step-down. Here is a transcript of what I said on 30 May 2004 at the Congress Theatre in Chicago. It's been lightly edited for taste and decency. If you want to know what I actually said ... well, you should have been there.

WINNING SPEECH FOR THE 25TH IML CONTEST - The 20 finalists had to write and deliver a 90 second speech as part of the 2003 "International Mr Leather" contest. A few people have asked for a transcript of what I said, so here it is.

JOHN'S GUIDE TO LONDON'S LEATHER, BEAR & SM SCENE

ESCAPE FROM FUNDAMENTALISM - Before I realised I was gay I spent seven years in a fundamentalist religion. This essay explains how I got sucked in and kicked out.

HOW I SURVIVED BACTERIAL MENINGITIS - when I was 25 I had a headache that wouldn't go away. It turned out to be bacterial meningitis and I was lucky to survive. I'm okay now but I lost a lot of memory - so if I can't remember your name I have a good excuse, okay?!
---
All text on this website copyright © John Pendal 1999-2023 unless otherwise stated. All Rights Reserved.
You are welcome to link to any page of this site but text must not be reprinted without permission from the author.